Purchase of the island from Maori plus early farmers
Purchase from Maori
Rev Henry Williams camped on Motuihe in 1833 and anchored at Motuihe again in 1835.Williams was the leader of the Church Missionary Society and he travelled around the upper North Island doing missionary work. He supported William Fairburn's mission at Maraetai.
About 1837 a man named Butler made an informal purchase of Motuihe and it was known as Butlers Island.
Taken from "The history of Auckland's Lovely Marine Park by Lorrie Walsh BA
WILLIAM FAIRBURN
William Fairburn (1795-1859) was a missionary and lay catechist (teacher of the Christian religion) with the Church Missionary Society. He arrived in New Zealand in 1819 with Samuel Marsden and worked at the Paihia Mission as a carpenter. He established a mission station at Maraetai in 1837 which had a school for boys and girls. He bought a large area of land, 40,000 acres, between Maraetai and the Tamaki River. This land was later taken by the Government with no compensation to Fairburn or the original Maori owners. Fairburn retired in 1841 and William Jowett took over. The mission closed in 1843 and Fairburn sold the land.
Maori called Fairburn Te Pepene.
PURCHASE AGREEMENT AND THOSE INVOLVED
William Fairburn purchased Te Motu a Ihenga from Maori  on 5 November 1839.
Copy of Deed: "Know all men who shall see these documents that we (viz.) William Jowett of Te Iwi Tutu a native chief, Ko Nuku of Te Nga tai, a native chief, and Te Manago of Ngatiwaki also a native chief, have parted with and alienated for ever that Island known by the name of Motuihe with all things either above or below appertaining to the before named land (which Island is situated in the channel running into Waitemata)  to Mr. Fairburn and to his children to cultivate, to sell, or to dispose of in any way he pleases for ever. On the Eastern side of the above named Island stands Waiheke, on the northern Motutapu, on the Western Motukorea, and in the centre of these islands stands Motuihe.  Payment for the said Motuihe (viz.); one heifer, twenty blankets, ten axes, ten hoes, ten spades, six gowns, two red blankets, twelve Dutch pipes, six n pots, and one shawl. See our marks written on the fifth day of November in the year of our Lord one thousand eight hundred and thirty-nine, New Zealand. These are the witnesses. Henry lor, Ko Hemi Pepene, Hoani Pepeni, Rawiri, 'rama ti, Ko William Jowett. The mark x Nuku The mark x Manako"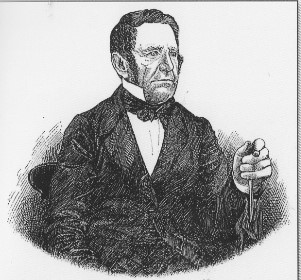 William Fairburn, missionary and lay preacher who came to New Zealand in 1819 as a carpenter to assist Rev Samuel Marsden. Photo sourced from Grey's Folly by Alan La Roche with the permission of the author. 
People involved in the purchase:
William Jowett of Te Iwi Tutu a native chief
William Jowett (Wiremu Hoete) was a Maori lay preacher. He was renamed after the Church Missionary Society member who assisted Samuel Marsden in the Pacific. He was based on Waiheke at Church Bay. He would have accompanied Fairburn about the district to assist with the business of the Church. He was related to the other signatories to the sale and may have influenced other chiefs.
Ko Nuku of Te Nga tai a native chief
A prominent chief of Ngai Tai
Te Manago of Ngati Tawhaki a native chief from Coromandel and closely related to Ngai Tai through Hauraki Whakapapa connection.
Hemi Pepene, (James Fairburn) one of the witnesses to the agreement, was a successful farmer In the area. He farmed between what is now Pakuranga Plaza and the Tamaki River and ran a punt taking people over the river between Panmure and Pakuranga. He was a Nga Puhi orphan, left at the Fairburn's house in Paihia and brought up by the Fairburns.
All were connected to William Fairburn's Church Missionary Society Mission station at Maraetai.
On 21 March 1840 Fairburn sold the island to Henry Tayler for 200 pounds.
Deed of sale between William Fairburn and Henry Tayler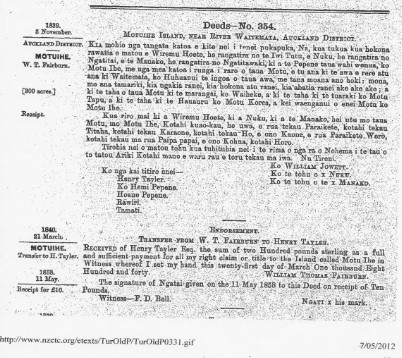 Deed of sale between William Fairburn and Henry Tayler
Deeds no. 354
MOTUIHE ISLAND, NEAR RIVER WAITEMATA , AUCKLAND DISTRICT
The text is in Maori and the reproduction is too bad to translate it.
The names at the bottom of the document are:
Henry Tayler                                                                   Ko William Howett
Ko Hemi Pepene                                                            Ko te teh   X  Nuku
Ho Hoani Pepene                                                          Ko te  teh  X  Te Manako             
Rawiri
Tamati
(most of these names are also on the agreement Fairburn made to buy the island)
1839 5 November Auckland district   300 acres
Transfer from W. T. Fairburn to Henry Tayler
Received of Henry Tayler Esq. the sum of two hundred pounds sterling as a full and sufficient payment for all my right claim of title to the island called Motu Ihe. In witness whereof I set my hand this twenty first day of March one thousand eight hundred and forty.  William Thomas Fairburn
The signature of Ngati given on the 11 May 18?8 to this Deed on receipt of ten pounds.  
Witness F. D Ball.     Ngati   X  his mark
21 March 1840 Motuihe  Transfer to H. Tayler.
18?8 11 May Receipt for 10 pounds
 Henry Tayler and Willian Fairburn were involved in other purchases in the Gulf, notably Kawau Island. 
In 1843 the island was on sold to William Brown and John Logan Campbell for 220 pounds. John Campbell is regarded as one of the founders of Auckland, most famous for gifting Cornwall Park to the city: note the memorial fountain located at the intersection of Manukau Road and Puriri Drive (the drive running through the park). Brown is notable for Brown's island (Motukorea), which is one of only two maunga in the Auckland Volcanic Field never to have been mined. This island is where Brown and Campbell originally stayed after travelling from the Coromandel, and where they resided while negotiating the purchase of the land which is now Auckland.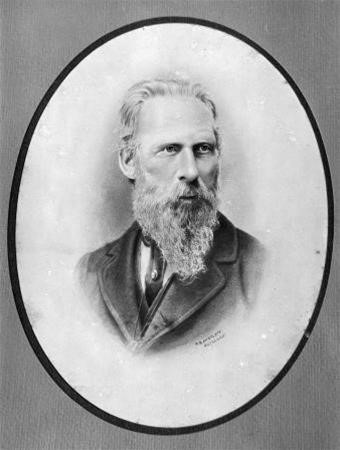 John Logan Campbell
Further information about John Logan Campbell is located under "Farming".