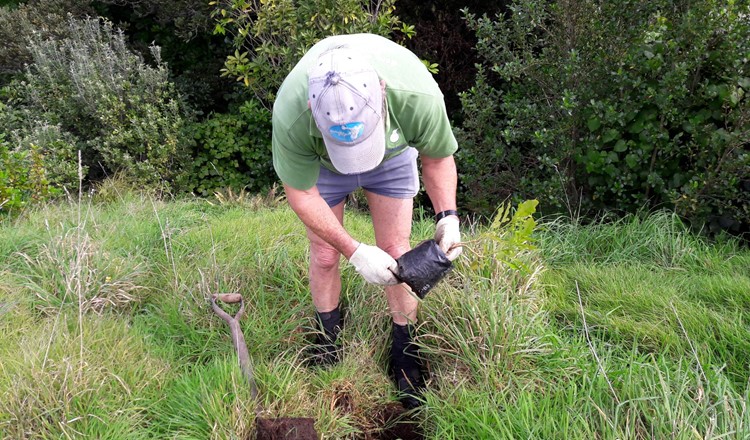 April 2022 Newsletter
There were five volunteer trips to Motuihe during April involving 48 volunteers and 17 Trust leaders. One trip was cancelled due to weather.

The next volunteer days are: 
Sundays: May 15 (currently 10 places left) and May 29 (currently 24 places left)
Mid week Friday 6 May (Charter vessel can take up to 60)
Next Monitoring trips:
May 7 and 8 overnight kiwi call count (rain date May 28/29)
June 5 and 6 overnight kiwi call count
June 25/26 overnight kiwi call count

New phase for our planting programme
Since 2000 the Motuihe Trust has been restoring the island with nearly half a million trees planted by thousands of volunteers from Auckland.
We are entering a new phase of the restoration project. We no longer require large groups of people to do mass plantings. We now need fewer people at a time to do in-fill planting of canopy trees and rare plants.
Therefore we are looking for groups of up to 30 adults or teenagers who are willing to be out in the field weeding areas that have already been planted or finding the right spot for this in-fill planting. Full training and equipment will be provided.
If you feel you can contribute to this phase of the project contact Fiona at info@motuihe.org.nz. Please do not be offended if we ask you to transfer to another date because we already have the volunteers we need on the date you want. Our Trust leaders are in addition to the 30 volunteers limit. 

 
The Red Boats
We are very grateful for the support of The Red Boats, our volunteer programme would not be possible without them. Please take advantage of their service to visit the island and enjoy this beautiful jewel in the Hauraki Gulf. https://www.theredboats.co.nz/cruises/motuihe-island-ferry

Beached Whale
A member of the public, Audrey Ferguson, initially alerted me to a marine mammal washed up on Snapper Bay. She wasn't sure if it was a dolphin or a whale. Since then it has been identified as a Southern Bottlenose beaked whale by DoC staff from skin/blubber samples. It is 6.15 m long. Apparently they are reasonably uncommon but one has been recorded in poor health around the Gulf, so it might be the same animal. 


Patrick sent in the photo, we am not sure who took it.

Little Spotted Kiwi
The kiwis on Motuihe are Little Spotted Kiwis the smallest of the 5 types of kiwi. Ours were translocated from Kapiti Island in 2009 and 2010 with a total of 40 birds being released on Motuihe. The LSK almost became extinct. They had disappeared from the North Island by 1870 and two decades later could not be found in the South Island except for 5 birds found in Marlborough. They were transferred to Kapiti Island and did so well that groups have been translocated to many predator free off shore islands and also to sanctuaries like Zealandia. A small group of Motuihe regulars visited Kapiti at Easter to see the original home of our kiwis. There are currently between 1,200 and 1,400 LSK on Kapiti. We are sending the Kapiti Island Iwi some of our video footage of LSK on Motuihe. They are keen to see how their translocated birds are doing. 


Jackie, Fiona, Emma and Louise arrive on Kapiti Island.


Kaka joined us at the lodge.


Bird life is prolific on Kapiti Island including this rare Takahe.

Aleppo Pine Heritage Tree
After WWI 10 Aleppo pine trees were planted on Motuihe in memory of the men lost at Gallipoli. 100 years later they were all cut down. Fortunately one seedling was discovered and protected in 2015. It is located on the headland behind the old Surgeon's Cottage. 


2022 photo of the Aleppo pine tree. As you can see it is doing well.

Auckland Museum von Luckner display
I have always had trouble finding the von Luckner cabinet at the museum and others have had the same experience. 
Enter the museum at the Southern entrance (I call it the back entrance). The lifts are behind the reception desk. Go to level 2. Walk through the exhibition area until you get to the entrance to the WWII exhibits. On your right is the Hall Of Memories with the names of WWII casualties and flags. Walk through the Hall of Memories to the far side and there is a door with WWI and earlier written over the top. The glass cabinet with the von Luckner collection is just inside. The sextant is not there, it is in Te Papa. 

TRIP REPORTS

Sunday April 3 Red Boat Trip
35 volunteers on another glorious sunny, windless day. Julie, assisted by Emma and Jocelyn led a team to locate and bait 37 trakka tunnels ready for monitoring in the near future. Jackie took a team to the Tieke track and they cleared the paspalum back 1 metre from the track and cut back flax as well as clearing leaves out of drains. She estimates three quarters of the track is now in very good shape. Nina de Jong had a group in the nursery sowing 6 boxes of kowhai and 3 boxes of tawapou. They also tidied up the kakabeak and planted 6 new ones. Brian and Rob worked on the plastic house roof and Fiona did some jobs at the pond. After lunch John and Julie took a group out to collect seeds. Our tasks for the day were all achieved and everyone enjoyed their day. Thanks to all. 


The track group hard at work cutting back the paspalum.


Brian and Rob work on the plastic house. 

Nursery training trips
10 April Phil and Jill plus 3 trainees
17 April Phil  plus 2 trainees

23 April Reptile Monitoring Training 
2 Leaders and 10 volunteers

Sunday April 24 Cancelled due to forecast of strong SW winds in the afternoon.

Anzac Day April 25
Four of the leaders from Sunday's cancelled trip joined Julie's camera group of 6 to get some jobs done on the island. John checked out planting and weeding sites, Phil worked on the irrigation system, Brian continued rebuilding the plastic house and Fiona worked on the pond inlet drain. Julie's group showed us some wonderful videos of kiwis and tuataras interacting from footage they brought back on camera memory cards.