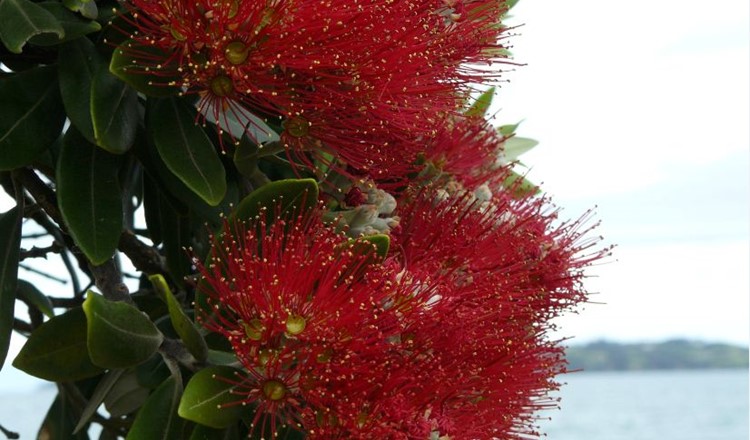 December 2021 Newsletter
There were 2 volunteer trips to Motuihe over December. One Dreamweaver trip on a Friday and one watertaxi trip on a Saturday. A total of 16 Trust leaders and 38 volunteers were involved. 
Next volunteer trips:
ALL VOLUNTEERS MUST PRODUCE A VAX CERTIFICATE AND WEAR A MASK WHILE IN THE CONFINES OF A BOAT. 
Dreamweaver trips Friday 28 January, Thursday 3 Feb, Friday 18 Feb  contact Simon on volunteermotuihe@gmail.com.
The Red Boats Sunday 23 January and Sunday 13 February contact Fiona info@motuihe.org.nz
The Red boats Sunday January 9, 16, 23 Phil's nursery work trips contact Phil on philfrancisnz@gmail.com OR 0274866250
Phil's notice below:
Opportunities arise to assist with nursery work on the Sundays of January 9th, 16th and 23rd. If you wish to join please book with theredboats.co.nz which depart from Z pier Westhaven at 9.00am, departing Motuihe at 4.00pm.
Tasks, which include the pricking out of seedlings and weeding, and are usually finished by 1.00pm. allowing ample time to explore the island, swimming or just lazing on the beach.
If you are interested please book with the Red Boats and confirm with the philfrancisnz@gmail.com or ph 0274 866250
RED BOATS FERRY 
STARTS UP AGAIN.
The Red Boats are going to run a daily ferry service to Motuihe starting on December 27th and going through to 23 January. After that they will run a weekend service. 
Departs Z pier Westhaven at 9.00 am and Motuihe at 4 pm.
$38 return for an adult 
$18 return for a child (up to 16 years)
$30 Gold card return
$90 family (2 adults 2 children) return
You must book first. 
https://www.theredboats.co.nz/cruises/motuihe-island-ferry/
What a wonderful way to spend a day. Beaches, bush and rare wildlife. 
THE KIOSK WILL OPERATE OVER THE SUMMER
giving out information and selling ice creams and tea/coffee. Contact Fiona on info@motuihe.org.nz for volunteering information. 
We welcome our 2021/22 
Summer contractors
 Taina Haig on the left and Mariana Shaw on the right.
Motuihe Trust AGM was held on Wednesday 15 December at 6.30 pm via Zoom
The audited accounts were presented and although not all funding applications had been successful, Foundation North has again provided the bulk of the Trust's funds. The finances are in a good position.
The members of the Trust remain the same:
John Laurence Chair, Mark Spooner Treasurer, Michael Wood Secretary, Matt Ewen, Max Smitheram, Peter Whitmore, Jon Hind, Michele Corso, Julie Thomson, Matt Baber, Stuart Macintosh.
LOIS BADHAM who has been a tireless worker for the Motuihe restoration project, has stood down from running the accounts and from chairperson of the Operations committee. Thank you Lois for the massive contribution you have made over many years. Lois will continue to contribute to the project in her other capacities. Julie Thomson has taken over the chairperson role of the Operations group and Jill Soufflot has taken on the accounts position. A big thanks to you both.
There was no appointment made of a deputy chairperson but it is hoped that this will be resolved during the year. 
Summary of the year:
Despite Auckland being in lock down for over 100 days and the wharf closed up until March,  the following was achieved:
3.017  trees were planted, (2037 qualify for the Treesthatcount programme) generally around canopy planting. Canopy planting will continue in to the future.
There were 21 volunteer trips to the island, 11 on Dreamweaver, 7 on water taxis and 3 on The Red Boats. Considering the access difficulties with the wharf closed for the first 3 months and Auckland in lock down for 4 months, I think it speaks to the resilience of our volunteers that we still managed to get out to the island and keep things ticking over. 
The  trees which were first planted in 2003/2004 are now providing habitat for bird dispersed native tree seed germination
Kiwi and Tuatara continue to thrive in increased numbers 
Visitors continue to enjoy the loop track system. 
Small groups of leaders have continued to work on the weed problem 
Monitoring of the wildlife has continued and the cameras checked and replaced.
Invertebrate Survey
On the first Saturday in December Bella, along with the Trust's ecologist Matt and his daughter Katie, went out checking previous monitoring sites in preparation for a planned invertebrate survey of Motuihe in February. This also led to an impromptu check on the lizard monitoring sites around Motuihe as Matt was keen to see how the different species he had helped translocate were doing. We found good numbers of healthy pacific, duvaucell, and raukawa geckos, as well as a couple of copper and shore skinks. It was especially good to see so many pregnant females! Our native lizards are unusual as all but one of our 100+ species give birth to live young. Geckos normally have twins and skinks can have between five and eight pups. 
 
During the spring, summer and autumn of 2021/2022 a small team of volunteers, led by Bella, were planning to run an invertebrate survey of Motuihe, with support from some generous funding from Foundation North. Unfortunately due to the hiccups caused by the recent Covid lockdown restrictions the surveying has had to be deferred to next year so that the complete time period can be covered. Preparation for this, including setting up pitfall trap sites, will still go ahead over the 2021/2022 summer so that we are ready to go as soon as the next spring comes along!
 
But what are invertebrates and why are we surveying them? Invertebrates are all animals without backbones - including molluscs, crustaceans, spiders and insects. On land, the biggest group of invertebrates are the insects and this is what we are focusing our survey on. By surveying what species are living where, and in what numbers, we are able to build up a picture of how well the environment is recovering on the island now that it is mostly planted out in natives. A baseline survey of Motuihe was carried out in 2007, when the island was mostly covered in pasture, and we will be able to compare what we find with the results of that survey. Insects are an important part of ecosystems: they help pollinate plants, break down dead matter, aerate soil and are food for many of our birds and reptiles. Aside from wētāpunga, there have been no insects reintroduced to Motuihe, any that are here will have had to find their own way, or have survived through all the previous changes to the environment. We are all very much looking forward to seeing what we find out there!
Bella Burgess
Raukawa gecko (photo by Bella)

Shore skink (photo by Bella)
N

avy Base mid 1950s
A friend drew my attention to this photo published in a magazine called NZ Memories. I contacted the Navy Museum and they sent me a copy. We have previously had an aerial photo of the base taken from the Motutapu side but I am unaware of a photo taken from this angle. 
New Zealand Defence Force [Tamaki, Motuihe Island aerial photo]. ABZ 0062. Crown Copyright CC BY-NC 4.0 Attribution-Non-commercial 4.0 International.
TRIP REPORTS
Saturday 4 December Water Taxi trip
A water taxi booked for the invertebrate survey was filled with 7 leaders who had a range of jobs they wanted to complete. Julie and Wes moved and installed the information panels around a tree near the kiosk, Jacqui, Jocelyn and Phil worked in the nursery pricking out 160 pingao, and also olearia, ake ake, tutu and koramiko ready for next year's planting season. Fiona installed new fire safety equipment and Jackie Rutherford checked cameras. Stuart, Denise and Lois came in the afternoon on the Macintosh's boat to prepare for the kiosk season, induction training for the two summer contractors and Lois caught up on the sponsored trees programme. It was great to meet our new contractors, Taina Haig and Mariana Shaw. They are keen and enthusiastic about helping to get the weeds under control. Steve the weeding guy is staying out for a week to show them the ropes. We travelled on Sea Shuttle's refurbished boat which took 20 minutes from Motuihe to Okahu Bay! 
Dreamweaver trip Friday 10 December
What a joy it was to be heading back to the island, and on such a day.  54 took the Dreamweaver and Graeme Seymour's vessel had another 4.  We had students, retired broadcaster, families, groups from WSP(12), Spark (13), Salesforce (6), BNZ (3) and 9 Trust supervisors. Liz gave a history talk on the way out, Mike led a weeding team covering the southern end of G8 (as you head towards Snapper Bay) Phil led a nursery team on this hot, humid day. They pricked out 65 koromiko, 195 wharangi, 5 ngaio and 37 rewa rewa, 30 kowhai 50 pohutukawa and 3 pseudopanax lessonii. so a busy day. These plants will be needed for the 2022 planting season. Jill supervised a nursery tidy up getting rid of empty PBs, seed trays and plants that had got too big. We met up with the two new summer weeders and Patrick the Ranger.  In truth it was almost too hot to work but many a wooly and quite a few moth plants met their maker.  A swim was all but obligatory along with a pleasant stretch on the Dreamweaver bow as we glided home safe and sound.  Brilliant way to round off an unusual year. 
Simon Sheen and Phil Francis
Exhausted leaders Graham, Phil and Jill (photo by Simon)
Spring has sprung on Motuihe
Despite their tendency to nest in the most inappropriate places these Oyster Catcher parents have managed to raise 3 chicks on Wharf Bay beach. (photo Simon)
Paradise ducks are notoriously bad parents. The pair we have on Motuihe, over the last few years I have been observing them, have not raised any chicks although they can start with 8 even 10 hatchlings. My camera at the pond has caught one paradise duck chick doing well. I did not observe it when I was there on 4 December but there are lots of hiding places under the flax. Hopefully it is still thriving. The 4 pateke ducks are doing well. 


Julie reports that there are fluttering shearwater chicks in the nesting boxes near Billy Goat point.
The Motuihe Trust wishes all the volunteers, sponsors and supporters who have done so much to support this project over a very difficult year, a very merry Christmas and a happy new year. 
John Laurence Chairperson