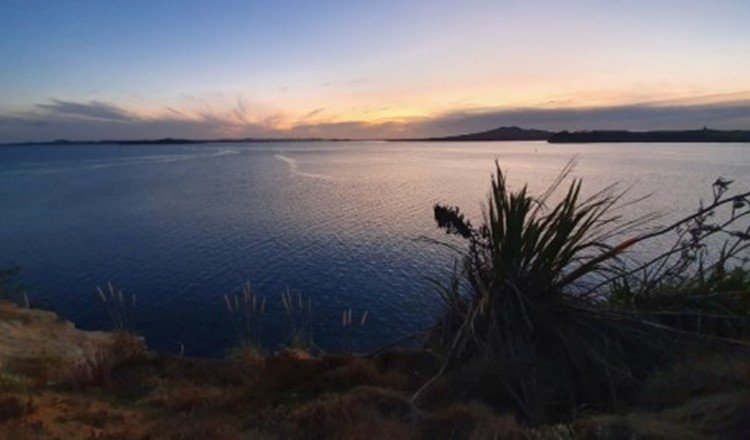 April 2020 Newsletter
The next volunteer days are: 
Due to the Covid 19 emergency, there are no volunteer trips planned for Motuihe.

Island life in lockdown
Monday 23rd of March we all got the news. We were to prepare for four weeks of isolation, starting in 48 hours. For me this was week four in my new job. I've come to Motuihe from Nelson Lakes, where I've spent the last five and a half years working in biodiversity. I was partway through re-baiting and maintaining the island's trap and tunnel network, when I got a call from someone at the North Head office. I was given a quick run through on the situation before I headed in to check out the update from the PM myself. I had to stop what I was doing and have a think about what this all meant for me. This took place for me in the rangers office, watching three large kereru eating berries in the not so large puriri out in the yard. I did not particularly like the idea of spending a month away from my new place of work, just as I was settling in. The inner islands team had a couple of phone meetings that afternoon about a plan of action, and I needed to decide by the following morning about whether I wanted to, or even could stay. I had only come onto the island that day with just that weeks' worth of food. Unfortunately, Josh the Trust's Summer Ranger needed to come off the island on the Tuesday as four weeks was too long to be away from family and I ended up catching a lift for a food gathering mission. I had to buy bread for the first time in over a year, as after visiting four supermarkets I still had not located a bag of flour! I came back to the island on Wednesday morning with a couple of weeks of food for two, as my partner Carys was able to come out as well with her courses at The University of Auckland shifting to an online format.
Week One
I finished up the trap re-bait/maintenance and tracking tunnel setup on the Wednesday and boarded up the public toilets as it was deemed unsafe to be cleaning these while in lockdown. This was to be the last field work for me for several weeks. DOC has not had most of its field work defined as an essential service, and any work we want to undertake needs to be approved on a case by case basis. In Level four, it has been that basically unless animal welfare is involved, it can't be done. The next day started off with online meetings, and the rest of it was settling in Carys, including taking her around the island for a bit of an induction as she had not actually been out to the island at all yet. What an introduction, plenty of Tieke/Saddleback and Tui around, and I took her down the Tieke track where we found two Tuatara on the usual corner, about 10 different Kakariki including a group of five, and several flocks of Popokatea/Whitehead.
I saw my first Korimako/Bellbird on the island, getting water from my gutter. I didn't get a proper look, and wasn't confident in the sighting for a couple of days, until I saw two of them in the Puriri tree out the back of my house. They seem to be much quieter than South Island ones, I tend to see them more than I hear them. To date I still have not heard any alarm calls.
We had between four and six yachts/launches each night this week, and I saw several couples taking their exercise on the island.
Week two
On the Sunday evening, I came across a bit of a surprise at Snapper Bay. A single duck spooked out from underneath the bridge as I was approaching and something just seemed a bit unusual about it. It spooked without a sound and stopped a short distance away in the stream. This piqued my interest and so I rustled around in my bag for a headtorch as we were just on dusk and the light was failing me. It was definitely something unusual, as the light confirmed a Pateke/Brown Teal. The first I have heard of them being present on the island. Since then I have found also found that a pair is regularly on the dam beside the water tanks at dawn and dusk, and shortly after seeing this, went to check at Snapper Bay and have seen a pair there. I assume that these ducks have made their way here due to our supply of natural water that I believe other islands have been lacking. The only two pieces of water on the island have Pateke in them!
It's pretty dry in general on the island and there's cracks that I have to be careful not to put the LUVs tyre into. Any water I leave outside my house promptly has up to 10 Pukeko in it. I have since installed a water trough on my fence which has helped to keep the Pukeko off of the roof, but the Tui, Korimako/Bellbirds and Tieke/Saddleback still seem to prefer the gutter.
This week after an over-the-phone familiarisation with Phil Francis, I began keeping a closer eye on the nursery, in particular the Kakabeak which are on a recently installed dripline system. The first time I manually turned on the driplines to check for leaks, a cheeky Korimako/Bellbird appeared out of nowhere to take advantage of the source of water. The plants overall at the nursery are in pretty good condition, the only issue really being the Pukeko knocking the occasional one over. As I cannot be undertaking fieldwork in Alert Level Four for DOC, this has been a valuable part of my regular mental wellbeing walks around the island.
We undertook several short walks in the evenings, saw plenty of Tuatara and Carys heard her first kiwi while returning from the Tieke track. A male, quite near the woolshed by the sounds of it. On most nights this week there were about six yachts/ launches, with people seen or heard on island most days.
Week three
Over the weekend we had our first food delivery. The company Eat My Lunch has been kind enough to expand their services to putting together "essential items" packs and organised with Steve at Auckland Sea Shuttles to get it delivered to the DOC island staff. For us this meant getting some much needed fresh veges, as well as some complimentary hot cross buns!
The Rangers office and workshop are beginning to look pretty tidy. The islands operational manual has been revamped and stocktakes have been done on everything worth stocktaking. There were plenty of online meetings to fill in the gaps, and my long weekend was spent getting stuck into the very much abandoned vege gardens which had a fantastic crop of Kikuyu grass. I gave it my best but time will tell how successful I was in finding all the rhizomes. I walked into the living room one lunchtime to find a saddleback making itself at home, it flitted around the room a couple of times before hopping its way calmly out the front door.
I've noticed that there are some drought hit plants around the island. No consistency to it though and nothing widespread. Some species that I have noticed are Mahoe, Karaka, Hebes and the occasional Manuka. In general it looks like things are coping fairly well. The moored boats started to leave towards the end of the week and I found that this was due to the weather that was to come.
Week four
This week I was given permission to undertake some essential work pertaining to water, gas, electricity and bringing in those tracking tunnel cards I had deployed on the day of the lockdown. Other than lizards, nothing to report from them. While down the south end of the island I couldn't resist having a peek under a couple of the lizard habitats and was lucky enough to see a small Duvaucel's gecko under the first one and a Moko skink under the third. I pumped about 60,000 litres of water for the nursery and continued with office work.
Our first decent rain in my time here this week, as well as some significant winds. We had our first night with no boats in the harbour and they did not return for several days.
Week five
Some good rain in the weekend and some of the cracks in the ground have started to close up. Hopefully a good reprieve for our birds. I completed a full re-bait of the trap network and replaced a few traps with refurbished ones.
Had a fantastic encounter on the headland after watching the sunset from near the water tower. We were just starting to head back after dark, it was about 1830hrs and we heard a male kiwi make his first call of the night. It couldn't have been any more than 200m away as it was coming from down near Mangopare Rua point.  With lights off we started to slowly creep down in that direction along the road I've been calling Puriri Rudge and figured we may as well have a wander around the parade ground on our way home. We heard him call again and this time he was definitely down by the Pa site. We reached the end of the road and this was accented by the fluttering of pukekos out of the trees. Amongst all of this I could hear a rustling in the strip of bush on our right. I whispered to Carys "That's exactly what a Kiwi sounds like in the bush" and 10 seconds later that was backed up by the kiwi letting out a few more notes of a call. We crept over in that direction hoping to cut on front of him so he fed towards us but we were a bit slow and he continued on his path away from us. After sitting for 10 minutes I started to hear another one coming along the same path so I turned the headtorch on and aimed it at a little corridor I could see that the Kiwi would have to walk through. Sure enough 30 seconds later a wee kiwi wandered through the light and carried on its way. I got a full silhouette but Carys was a bit slow on what the plan was and just caught the fluffy butt as it disappeared out of view. We backed out and left them to it and we could still hear them foraging as we walked away. I imagine living so close to the campground they're used to disturbance but must be enjoying the quiet after a busy summer.
With Level 3 starting next week it looks like I will be out here for a couple more weeks straight. Our inner islands team are lucky that our boat is operating and bringing us groceries on a weekly basis. My coming on and off the island while still in Level 3 would be exposing our boat team to unnecessary risk and would be unfair to them and their families. I have to say though that I am enjoying the opportunity to get to know the island on my terms with my spare time and weekends. My normal roster is Monday to Friday, coming off the island in the weekend and so this would have taken a long time without the current circumstances. I hope that you all are doing well in your respective 'bubbles', and rest better knowing that the island is in good shape.
Patrick Van Diepen Motuihe Ranger
Brown Teal Ducks/Pateke on the pond 


Brown Teal Ducks/Pateke at Snapper Bay 

Phil reports on coastal plants
Over the past years on Motuihe our attention has been on planting low land coastal broadleaf forest and the eradication of invasive exotics such as moth plant and woolly nightshade. In the meantime, in small pockets, other species have been quietly establishing and adding to the bio-diversity.
Such is the case with the sand dune plants down on Ohinerau Beach. Spinifex (S. sericeus) or Kowhangatara and Pingao (Facinia spiralis).
Spinafex is blue-green in colour and in the autumn has a distinctive seed head that is best described as tumbleweed.  These heads become saturated and drop the seeds held within. It is their extensive underground roots (rhizomes) that bind the sand. The tall grass like tops are home to dotterels and oyster catchers.
Pingao is an endangered sedge. ----Sedges have edges, Rushes are round, Grasses have node from the top to the ground. Again it has extensive rhizomes but they tend to creep close to the surface and are particularly efficient in storing water. The plants tend to occupy the front face of a dune. The  brown-yellow leaves are used in tukutuku panels in meeting houses.
Both species are important and are worth considering for planting on the bank beyond the kiosk facing towards Waiheke.
In the nursery there are trays of these seeds sitting in sand. They may well look bare but please do not throw them out.  You may also notice another species labelled, Facinia nodosa. Related to the Pingao it is worth planting out if only for its common name The Knobby Club Rush. 
Phil Francis

Pingao


Spinifex sericeus seed head

Disposal of the Navy buildings
I have been told a number of times that the Navy bulldozed the buildings over the cliff. If you read the following, you will see that this is not the case. Some of the demolished buildings may well have been pushed over the cliff by the Ministry of works but not the Navy. However, the Navy did strip the buildings of useful fittings.
There was considerable public debate, even before the Navy left Motuihe, about what to do with the buildings. This is an extract from the New Zealand Herald 22 December 1962
The opportunity to use and develop the whole island presents a challenge to the enterprise and imagination of the city. The City Council should be warned from past experience against letting the remnants of the naval establishment be diverted to any purpose which would deny any part of the island to public enjoyment.
In 1964 the Director of Parks commissioned a report on the state of the buildings left on Motuihe after the withdrawal of the Navy. Mr Simmonds found the following:
70 separate buildings, 50 of which were of large proportions. Eg 12 dormitory blocks 90' by 23' Gymnasium 115' by 40' and hospital building 80' by 80'.
The buildings were either to be demolished, sold for removal or resited for further use in order to restore the land to its pristine condition. The buildings are of wood frame construction with corrugated iron and fibrolite roofing and have been reasonably maintained. The older buildings, 50 to 40 years which were part of the quarantine station, are at the end of their economic life.
After the Navy vacated the area the Ministry of Works took over and they have systematically removed electrical fittings, including ranges, all worthwhile sanitary fittings including baths, basins and pans.
Estimated cost of clearing the land = 30,000 pounds. This should be spread over a period of 3 years.
It has been suggested that the area be taken over by the Health Department or some private organization for health camp purposes or for the development of a public holiday camp or amusement park or for a guest house. These ideas have limited appeal as they would deprive the general public of their intrinsic right to take advantage of the land and beach frontages.
Conclusion: In view of the high cost entailed in order to add 31 acres to the existing Domain, and when balanced against a probable land value of 3,000 pounds, and the limited annual return expected the Crown is by no means over-generous in offering this land to Council, encumbered as it is with buildings which have in themselves little value because of their incomplete utility. It could be suggested that the Crown be asked to make some contribution towards the clearing of the area say 7,000 to 10,000 pounds.
New Zealand Herald 27 September 1964
The Government has offered the Auckland City Council a grant of 2,500 pounds toward the cost of demolishing or removing buildings on Motuihe Island. The 30 acres of land and the buildings were offered to the council last year after the Navy left the island. When members of the council parks and library committee inspected the former base they discovered that the Navy had stripped the buildings of all worthwhile fittings.
Auckland Star 18 May 1965
Two buildings on Motuihe Island have been offered to the Justice Department. The buildings would be taken by barge in sections to Rotoroa Island for the sanatorium of alcoholics. The Council will recommend that the remaining buildings be demolished.
Navy leaves Motuihe
The Navy finally left Motuihe in October 1963 and HMNZS Tamaki was re established at Fort Cautley on Auckland's North Shore. There has been various interpretations of what state the Navy left the buildings in.
The following is an extract from a letter written by Richard T Hale Commander RNZN to the Mayor of Auckland.
Your Worship, In confirmation of our discussion the following facts are forwarded for your information:
August 1961 A Government directive was given to the effect that only essential maintenance was to be undertaken at HMNZS Tamaki, Motuihe Island.
19 August 1963 Naval withdrawal from Motuihe Island commenced.
9th September 1963 All essential gear and equipment removed for the commencement of the spring term at Fort Cautley.
8 October 1963 Withdrawal completed. Ministry of Works caretaker installed. Water reticulation system handed over to the Auckland City Council as a going concern.
On Navy vacating Motuihe all serviceable equipment including stainless steel urinals, benches, ablution facilities and fluorescent lighting for which there was a known requirement was removed and has subsequently been used in making HMNZS Tamaki at Fort Cautley a going concern. All external doors were left in a fully lockable condition with matched keys transferred to the Ministry of Works caretaker. Yale locks were removed from internal doors for subsequent usage. The fixed installations, oil fired boiler, cool room and diesel generators were not required and were left intact.
To safeguard this property the Ministry of Works caretaker was installed and is still in residence on the Island. At the time of evacuation there were no known broken windows or doors.
Hundreds of persons must have visited Motuihe in the summer months and it appears evident that vandalism by some irresponsible element may have taken place.
Fiona Alexander

Navy buildings on Motuihe being demolished Auckland Star Oct 22 1965

Navy page upgraded
Fiona Alexander and Peter Barron have been upgrading the Navy and Coastal Defenses pages on the Trust website. It isn't quite finished as we are waiting for the Auckland Museum and National Library to reopen to check on a few details but it is almost done. There are far more pictures, there are links to stories by two trainees and an interview Peter did with Eileen Slark the wife of the last naval surgeon Tony Slark. Also there is much more information about the guns that were on Motuihe. Have a look.
www.motuihe.org.nz/about-the-island/heritage/1941-1963-hmnzs-tamaki/
www.motuihe.org.nz/about-the-island/heritage/1941-1945-naval-coastal-defence/

TRIP REPORTS
There have been no volunteer trips to Motuihe during April due to the level 4 restrictions for Covid-19. 

Volunteering Information
To volunteer for a Sunday trip you need to do two things. Firstly register with the Trust by emailing Fiona at info@motuihe.org.nz. Secondly phone Fullers on 3679111 to reserve a planter's seat. On the day go to pier one before 9 am and collect a volunteer card from one of our Motuihe people near the pier one ticket office. Take this volunteer card and your seat reservation number to the ticket office to buy a discounted planter's ticket for $24.50 and $12.60 for a child.