Midweek Volunteer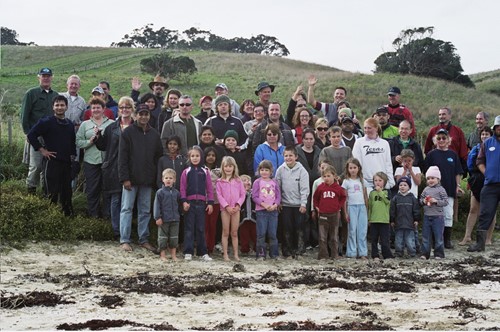 "
 Weekday volunteer trips
Weekday volunteer trips are currently being arranged with the use of the charter vessel Dreamweaver. Please contact Simon Sheen at volunteermotuihe@gmail.com for further information.  Cost $40 per person with the vessel departing Z Pier Westhaven  Marina at 9 am and returning to Westhaven approximately 4.00pm.
Midweek volunteers are welcomed and should contact volunteermotuihe@gmail.com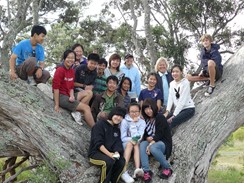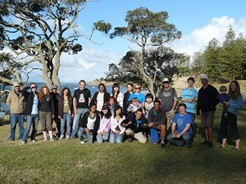 The Trust runs a flexible midweek volunteer programme.  Whether you are a corporate team looking for an excellent 'volunteer day' option or an individual wanting to make a difference, please contact email: volunteermotuihe@gmail.com
Activities are season dependent, with tree planting from autumn to early spring, with the rest of the year including; seed collecting, nursery tasks, weedwork, track clearing, and other relevant jobs.  Along with Trust Leaders we can tailor a day to fit with a wide variety of ages (5-80), fitness levels and experience.  The aim is to enjoy the beautiful island and contribute to its future.
Motuihe Island FAQs 
Welcome to the Motuihe island project – good choice.  The following should answer most questions relating to the day.
Where:

Motuihe Island sits between Rangitoto and Waiheke.The ferry ride of approximately 1 hour to the island

When:

8.30am depart time for the ferry. Activities will start around 11am.  Lunch around 1pm with the ferry leaving the island at 3.00pm

Why:

The Motuihe Island Trust, assisted by volunteers (us) is replanting the island and helping to restore native flora and fauna.

How to get there:

Dreamweaver departs from Z pier Westhaven at 8.30 am. 

Parking:

Large pay and display car park at Westhaven Marina
Few mesh fences where you can lock your bike

Cost:

$40 return for Dreamweaver

Activities:

Essentially three options: planting, weeding or nursery work. This involves planting native tree saplings on the island, cutting down invasive weeds and general planting/potting up/weeding etc work in the plant nursery.

What to wear:

Outdoor 'gardening' clothes and stout closed footwear. Bring gardening gloves. What to bring:

All equipment is provided ie saws, hand tools and even some gumboots

Food and drink:

There are 2 BBQs if you want to bring food* out but bring snacks/sandwiches, please note there are no rubbish bins so 'take back what you bring'
Water is good to drink on the island. Bring your water bottle, you can refill at the nursery with filtered water
Nursery has a kettle and coffee/tea/milo

Toilets:

DOC toilet block near the wharf.
Single toilet at the nursery

Map of the island:
Health and Safety: Hazards for volunteers link

There will be a briefing on the island. 
First Aid kits available on the tractor and in the woolshed
AED Defribrillator in place at Isthmus Toilet Block for emergency - please follow instructions

Mobile phone:

Work fine on the island…….but no wifi

What is on the island:

No shops, vehicles, people (excluding Doc Ranger) or pests.
440,000 trees planted since 2000
Little Spotted Kiwi, Tieke, Kakariki, Tuatara, Whitehead, Duvaucel Geckos and more...
*Please familiarise yourself and comply with Biosecurity rules ie sealed containers