Kiosk & Guiding
Motuihe Island / Te Motu-a-Ihenga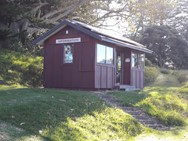 From December 26th through to Easter weekend, Motuihe Trust kiosk operations requires volunteers to cover from approximately 11.00am after the transport arrival through to 2.45pm/3.00pm (depending on transport departure time and volunteer availability).
Dates and departure times: 2019/20 summer dates are yet to be finalised, however it is anticipated that daily coverage for kiosk and guiding from December 26th through to January 31st will be required and from February 1st weekends/public holidays through to end of Easter Weekend.
Accommodation: Currently the volunteer house is not available, however it is envisaged that this situation will be remedied before December 26th.  For those volunteers who do not wish to stay overnight on the island, return day trips to/from the island will need to be arranged. 
Kiosk:  Duties cover the sale of tea, coffee, milo, ice cream, water and apparel, liaising with the Kiosk Co-ordinator in relation to stock levels etc.  Duties also cover talking to island visitors about the Trust restoration background, current Trust operations and heritage information on Motuihe. (Notes are provided)
Guiding:  Due to transport restrictions of volunteers, there will be no guiding during 2019/2020 summer season.
Training: For kiosk duties will take place on 4th November however new volunteers would be teamed up with an experienced volunteer to allow familiarisation with Motuihe Operations.  On busy days, an extra pair of hands is greatly appreciated by the team. 
A roster for kiosk will be produced before the start of the season. 
Email info@motuihe.org.nz if you are interested in joining the Kiosk crew.