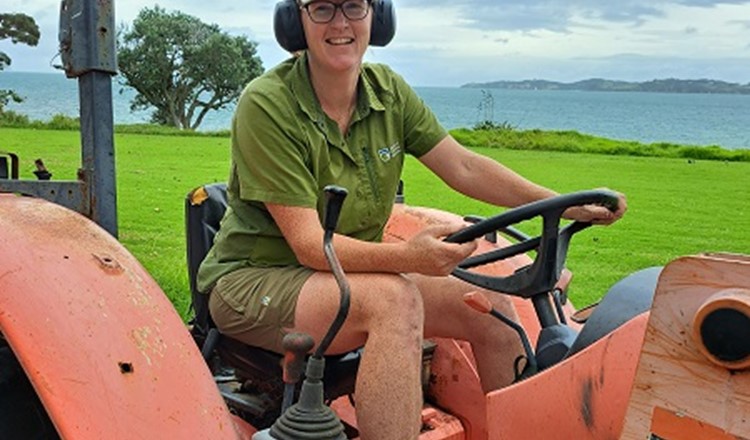 April 2023 Newsletter
There were 4 volunteer trips to Motuihe during April with 30 tertiary students, 122 adults and 25 Trust leaders. 680 trees were planted. One trip cancelled due to weather. 

Wharf update
We are still waiting for DoC to inspect the wharf after cyclone Gabrielle. We do not have a time frame for when the wharf will reopen. Without the wharf, The Red Boats cannot run their ferry service. We will keep the "Motuihe family" informed of any progress. 

New Ranger
Emma Dunning is the new permanent ranger on Motuihe. 
A personal message from Emma: I have worked for the Department for the last 14years, doing various roles all in different places around the country. I have made the move to Motuihe from Tiritiri Matangi where I was been based for the last four years, I also spent four and a half years as a ranger on Matiu/Somes. I love the unique challenges and diverse nature of island work. It is an honour and privilege to be able to work on pest free motu/islands.  I am really looking forward to the new adventures and challenges on Motuihe and getting to know and work with you all.
At this stage I am working 9 days on 5 off (being on island Monday to Monday), the best way to
contact me is via the island email motuihe@doc.govt.nz and the island cellphone 02743722576.

WELCOME EMMA! We also look forward to working with you. 



Kiosk
The 2023 Kiosk season (Boxing Day to Easter) started off on a high note. We had all the positions covered by volunteers and were very hopeful of a successful summer. Forty people volunteered to work in the kiosk, some for multiple slots. However, it turned out to be the most challenging season ever. The Auckland weather bomb and then Cyclone Gabrielle stopped the Red Boat ferry and then the wharf closed. Without the ferry it became very difficult to transport the kiosk operators to the island. La Nina and the associated unsettled weather mainly on weekends stopped boats anchoring in the bays and buying our ice creams. We were able to open for 22 days and were closed for 31 days due to the combination of weather, no ferry and closed wharf.
The kiosk gives the Trust an opportunity to get information out to the public about the restoration project. The operators are able to answer questions and talk to visitors about the activities on the island. However, the result of being closed for more days than we were open is lots of unsold ice creams, which is of course a cost to the Trust. We are hopeful that the mid week and Sunday volunteers will buy some of them and help this fund-raising activity get back on track
Thanks to all those that volunteered in the kiosk over the summer, and lets hope for a better summer season next year.
Stuart Macintosh and Fiona Alexander

Help us discover fungi on Motuihe
The Motuihe Trust has a new project to help us better understand the fungi living on Motuihe. We have set up an iNaturalist project and anyone can contribute to it. All you need is a (free) iNaturalist account, which you can set up here: https://inaturalist.nz/home. Once you have an account, take photos of any fungi you find while you are on Motuihe and upload them as observations. They will automatically be added to our project, which you can look at here: https://www.inaturalist.org/projects/motuihe-fungi. 
 
To help the scientists who identify fungi posted on iNaturalist, please follow these guidelines with your photos: please make sure your images are in focus and include the top, stem and underside of the fungi and include some kind of scale. If you don't habitually carry a ruler around with you a coin or library card will work. If you know what plant(s) the fungi is growing on or near, add this information into the notes section of your observation. iNaturalist is very user-friendly and a fun way to help contribute to scientific understanding of our world, while also learning more about species that catch your own eye.
 
Fungi are a major kingdom of life, alongside plants, animals and bacteria. The mushrooms that you see are the fruiting body of the fungus, and the rest of the organism is made up of microscopic threads. Because fungi spend most of the time hidden from view, they can be hard to study and less is known about them than our more visible native species. Despite this, recent studies have shown that fungi are critical to plant health and that some groups of fungi enable plants to 'talk' to one another and share resources to support weaker or smaller trees and plants. Fungi can also help ward off disease. And of course there are fungi  that are diseases too (like myrtle rust). Finding out what species are on Motuihe, what parts of the island they are on, what plants they are growing with and how the different species on the island might change over time as the forest matures will help us begin to better understand the role that fungi are playing on Motuihe. If you would like to know more about this project, or have general questions about fungi, get in touch with Bella. 
bella.burgess@gmail.com


Russula mushroom


Ganoderma bracket fungus

TRIP REPORTS
Sunday April 2 Dreamweaver charter
39 boarded Dreamweaver on a very foggy morning. 2 kiosk operators, 6 Trust leaders and 31 Auckland University International students and their faculty organiser. The students came from 17 different countries, many from the USA. We made our way slowly down harbour due to the thick fog however, once on the island the fog lifted and we had a lovely sunny day. All the students went planting and 140 trees were planted below the pond. The trees included canopy species such as Puriri, Kahikatea and Totara. After helping with the planting Lois cleared 20 m of track near Snapper Bay and Jackie surveyed the work needed on the Tieke Track and weeded to Wharo corner. After lunch the students enjoyed the beach. We departed from the block using Dreamweaver's tender. 
Fiona Alexander


The students watch the city emerge from a blanket of fog from the bow of Dreamweaver (photo Lois Badham)



Auckland University International Students ready for work (Photo Fiona)

Tuesday 11 April Dreamweaver
Unusually we went out on a Tuesday with 37 volunteers from 2 Degrees and 5 from ASB.  Greg, David, Lewis and Simon (assisted by 'bag carrier Jaxon) led a weeding team into Ricoh valley, emerging with bags of moth pods.  Big welcome to young Lewis who, having just left school, got in touch and is keen to volunteer.  We expect great things from Lewis who is clearly already loves the island and is learning fast. 
Simon Sheen
Today 175 plants went in including Puriri, Pohutukawa and Kowhai.. The majority completed the planting of the slope below the pond (I7a and H7d). The remainder were taken to the beginning of the higher Ricoh valley track (L6a). This exercise finished the planting of plants on the trailer and gave me an opportunity to check out the planting site for the next trip--April 13th
 2 degrees and ANZ did well. Yet to reach their teenage years, Jill's two grandaughters, Isla and Zoe, are old hands. From the trailer they directed what was to be planted, rationed the fertiliser tablets and pulled me up when I had people plant outside the designated area..
Phil Francis

April 13th Dreamweaver
Our great supporters Salesforce organised a team of 25 who came out on a beautiful Thursday autumn day.  Phil and Elizabeth with about 15 planters we loaded up 115 plants destined for the top end of the Ricoh Valley track (L6a). Earlier plantings of puriri and pohutukawa are doing spectacularly well so extra numbers of those species  were kept back in the nursery. The upper side of the track between the Bald Knob track junction and about 300m along to an insignificant track to the left,leading to Ohinerau, has been thoroughly planted.
Colin, Phil S, Simon and Greg took the rest of the team to revisit Ricoh valley where it was more of a wooley nightshade, rather than Tuesday's moth plant, campaign.
Another warm, sunny beautiful day saw a beach picnic the odd swimmer and a happy crew head back to pier Z safe and sound.
Simon Sheen
The track clearance team of 4 chipped away approx 80 metres towards Snapper Bay. We're closing in on the Snapper Bay/Pa Point intersection.  Amazing group of 3 Salesforce team (Dan, Peter and Tejas) worked like absolute trojans which makes supervision easy. A quick visit to Snapper Bay was enjoyed by the guys before heading back for lunch.
Lois Badham


Salesforce volunteers in action (photo Lois Badham)

Friday 28 April Dreamweaver trip
A low tide arrival meant a 'beach' landing at the barge ramp where the 55 volunteers off the Dreamweaver met up with the 6 supervisors who came out on the DoC boat. Near perfect weather; warm, sunny and dry allowed for three work streams.  Phil, Jill, John, Liz and Dina led a planting team in H9, west of Billy Goat Point planting:250 mainly canopy trees including Karaka, Puriri, Kowhai, and Kowhai. This season's biggest planting effort so far. 
Rain is forecast soon so it should be a good start for these trees many being rejects from last year but with rebagging and the addition of 1/4 of a fertiliser tab they are thriving.  Meanwhile a track clearing group, led by Colin and Simon,  finished the Snapper Bay track started by Lois, and pushed up towards Pah Point. A further team pushed into G9/G8 collecting 3 bin bags of moth pods, picked out thousands of seedlings and chopped some big woolies.  Back in the nursery, with a new leak proof roof, the watering system is going well. The remedial hand watering required was minimal. Thank you to Chris who stayed back to reposition plants, weed and sow another 4 boxes of kowhai seed.
The volunteers from AECOM and ANZ enjoyed beach cricket (midwicket fielded in the rising tide) on wharf beach, did a quick beach clean and had a safe trip home with a close encounter with a huge naval vessel off North Head.  All good fun and a highly productive day.
Simon Sheen/Phil Francis12

Sunday 30 April Water Taxi trip CANCELLED DUE TO WEATHER