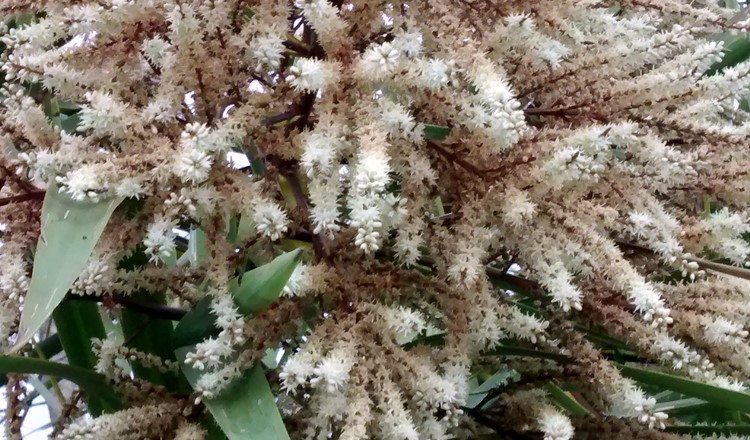 August 2019 Newsletter
During August there were no volunteer trips to Motuihe. All trips were cancelled, both Fullers and Red Boats, due to weather or wharf closure. What a disappointment!

Wharf partial closure
The Motuihe wharf is owned and maintained by the Department of Conservation. Their engineers have discovered deterioration in the concrete block at the end of the wharf. This means that area of the wharf is closed to visitors and Fullers cannot berth. However the stairs and the wooden part of the wharf are still accessible so the Red Boats can use the wharf. DoC is working on getting the wharf fixed and then their engineers will reinspect it and so will Fuller's engineers. This is going to take some time and we do not expect to have the wharf back in full use until late October. This situation is a serious blow to the restoration project.
HOWEVER, THE RED BOATS HAVE COME TO THE RESCUE!!!
Make the journey part of your Motuihe Day. Relax as you cruise down the harbour on the classic Red Boats ferry Reo Moana. She has been part of Auckland's marine landscape for as long as any of us can remember. The Motuihe Trust has chartered The Red Boat's ferry while the wharf is being repaired. Book and pay through the Trust's website www.motuihe.org.nz. If you need instructions, email Fiona oninfo@motuihe.org.nz.
Sailings:
1 September
29 September
13 October
20 October
Leaves from Z pier Westhaven Marina at 9.15 am and Motuihe 3.30 pm arriving back at Z pier by 5 pm.
Volunteers: Adults $30, seniors, students, children all $20
Visitors: Adults $37.50, students, children $25
If you need instructions to get to Z pier email Fiona on info@motuihe.org.nz.
We look forward to seeing you on Motuihe island, the jewel of the Hauraki Gulf.
Do you want to spend more time on Motuihe this summer?
For this summer we need more guides and kiosk operators to spend days on Motuihe and cater for the increasing number of campers and daily visitors.
If you are familiar with the island and would like to provide information and sell ice creams in the kiosk, or take a group on a guided walk, we are offering training in the coming weeks.
Kiosk training : Sunday 13 October-  Training will take place during the public volunteer day, ferry leaves downtown at 9.15am, returning about 4.30pm. (these arrangements will probably change due to the wharf partial closure but we will let you know closer to the time)
Guide training:  Saturday 9 November- Travelling out on the water taxi, probably leaving Okahu Bay 9.30 am, returning about 4 pm.
 
During the summer it works well if guides can also be kiosk operators. Both can travel out on the Red Boats daily, or stay overnight on the island. More details in the October newsletter or fromhazel@breakthroughstrategies.co.nz   
If you are interested in either of these trainings with a view to spending some days on the island over the coming summer, send expressions of interest to hazel@breakthroughstrategies.co.nz
Please include any relevant experience you have had, and whether you are familiar with main tracks on the island, and the recent restoration work.  It will also help to know roughly how many days you would be willing to volunteer for either of these roles during the 2019-20 summer.  Let us know if you are interested even if you cannot make the suggested training days.
Report from Motuihe Ranger
While I was checking the rat incursion trap line and monitoring cards on Sunday afternoon in Von Luckner's bush I found a young, very wet and cold but alive Kakariki chick.It was in the water just above the camera that first spied the rat. I fished it out and returned it with me to see if we could warm it up and perhaps increase its chances of survival. Unfortunately it died a few hours later.  What is interesting though is that it was covered in feathers but could not fly yet.  I estimate that the egg would have been laid at the end of May!!
 
Excerpt from NZ Birds online…..
Red-crowned parakeets have been recorded breeding year round, with the main breeding period subject to regional variations. They are cavity-nesters, preferring hollows in trees but also using holes in the ground in cliff faces, talus slopes and under dense vegetation. The average clutch size for the nominate subspecies is 7 (range 4 to 9). Female parakeets are responsible for all nest preparation, incubation, brooding and feeding of chicks until 10-14 days of age, with all food provided to her by her mate. Thereafter, male and female parakeets feed chicks at the nest until fledging and independence. Egg-laying takes several days to complete, with incubation usually commencing after the second egg is laid. Incubation takes approximately 23 days, and the chicks hatch asynchronously, so there is a large variation in chick size within a brood. Nestling period varies widely depending on hatch order (nestling period 32-49 days). The last chicks to hatch usually fledge at an earlier age and are less developed than their older siblings. More than one brood may be attempted if the initial nest fails or if food supply allows.
John MacKenzie
tepapa.nz/TakeAction
Lois took action and sent Te Papa a short video of our Phil showing volunteers how to sow seeds. Click on the link then next to START EXPLORING is a big arrow > click on the arrow and scroll through other projects until you get to Motuihe. Well done Lois. 
ACC Archives
I have been looking through the material the Auckland City Council has on Motuihe from the time it was an Auckland City Domain in the 1930s, 40s, 50s and 60s. This map (which you will have to look at on a computer as it needs to be enlarged) was drawn in 1930. It shows the slope of the land that is now in front of our kiosk before it was flattened for a recreation ground by the navy. There is no mention of the Moreton Bay fig trees although they must have been there. There is an early kiosk marked and the quarantine station seems to be still in use. One weird thing is a row of coppers marked above Wharf Bay beach near the road junction. Can anyone suggest what the coppers would have been for? My mind is stuck on boiling down whale blubber!! A more sensible suggestion is that they were used for laundry as this was a quarantine station they probably had to boil linens. However, they are not in a shed, they are out in the open. 
The map has details about fences which presumably were to keep people in quarantine away from members of the public. There is a corrugated iron fence an iron fence and a P + W fence which I think means post and wire.
How's this for ongoing commitment?
The CBRE team were all presented with a baby kakabeak when they came out to volunteer a few months ago.They provided pictures (which unfortunately will not copy) of their office competition to date. A collection of very healthy looking kakabeaks. 
Simon Sheen