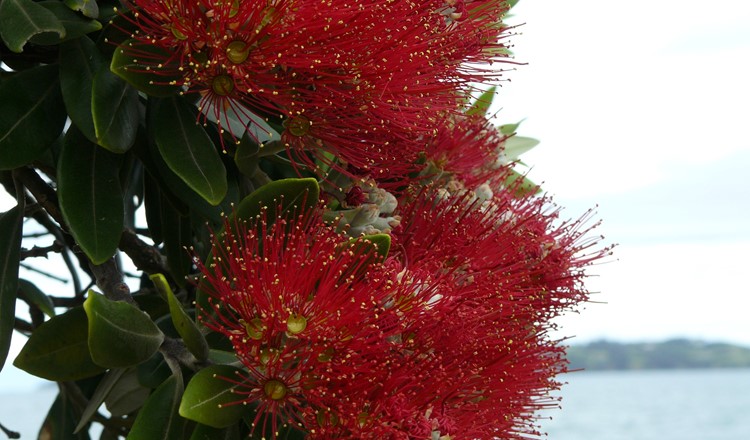 December 2019 Newsletter
During December there were 2 volunteer trips to Motuihe with 84 adult volunteers and 9 regular trust volunteers
. 

Wharf and volunteer house
Still no news or progress on either the wharf or the house. 
Mid week trips organized by Simon using Dreamweaver.
Leave from Z pier at 8.30am and return at approx. 4.30pm, $40pp return. Beach landing using a tender or, if the tide is suitable, using the block.
Thursday January 30th
Thursday February 13th
Friday February 21st
Thursday March 5th
Contact Simon on volunteermotuihe@gmail.com
Good news to end the decade! Motuihe has its first fluttering shearwater chick since the mid 1800s!!!
The fluttering shearwater/pakahā (Puffinus gavia) is a New Zealand endemic that is found throughout the Hauraki Gulf. Little is known about the biology and ecology of fluttering shearwaters, including the population of the birds in the Auckland region, but anecdotal evidence suggests flocks of fluttering shearwaters used to be larger and far more abundant than they are today. This is largely due to the introduction of mammalian pests to many of the sites that fluttering shearwaters used to breed. Similar to many other New Zealand seabirds, fluttering shearwaters are easy targets for rats, mustelids and cats in their shallow underground burrows. These pests have wiped out many seabird colonies throughout the country and as such, the species are now largely confined to pest-free offshore islands. Burrowing seabirds play an important role in terrestrial ecosystems, particularly island ecosystems, as guano fertilises the soil and their burrowing activity aerates the ground and promotes plant growth.  
 
The fluttering shearwater chick that hatched on Motuihe Island in October is a testament to the success of the pest eradication efforts on the island. This is likely the first successful breeding of fluttering shearwaters on the island since rats, cats and cattle were introduced in the mid-1800s. Acoustic playback systems and artificial nest boxes at other pest-free sites have been instrumental in establishing breeding colonies of fluttering shearwaters at Tawharanui Open Sanctuary, Matiu/Somes Island and Nicks Head. Fingers crossed for more chicks next season! 

This little ball of fluff is our Fluttering shearwater chick.
Nursery Notes
As we begin the holiday recess it is pleasing to note how the nursery stock is thriving in spite of the challenges the year just past has thrown our way. Thriving thanks to the special efforts of the few volunteers we have managed to bring across, rangers John and Carolyn McKenzie and the current student interns—Stephanie and Josh.
It is a good time also to move about the nursery thinking about some of the more special plants that when things return to normal we will be planting out in the field.
Kaka Beak: Clianthus punicous.  An endangered plant. The seed is from the only known source, Moturemu Island in the Kaipara. It is not to be confused with the more robust Clianthus maximus which is found along the east coast on the North Island. After some disappointing results we currently have specimens thriving out by Rotary Point on Tieke track. It remains to be seen if the seed produced will germinate in the long grass. Next season we hope to hold specimens back in the nursery specifically for seed production.
Shore Spurge: Euphorbia glauca.  A coastal plant that is under threat but useful in that it has rhizomes (underground stems) that put out lateral shoots---think of your kikuyu lawn. There has been limited planting in the sand down at Ohinerau. You will also find examples growing next to the kaka beak by the volunteer house
.
Clematis: Clematis paniculata (Puawhananga) An outstanding success on Motuihe. It is thriving in the nursery and several specimens that have been planted across the island are beginning to climb in amongst the established natives. Do not to confuse the clematis with moth plant. If in doubt break off a leaf and check for a milky sap. Milky sap means moth plant. It should not be an issue on Motuihe but clematis can be mistaken for Old Man's Beard Clematis vitalba. The mature C paniculata has 3 not 5 leaflets, the trunks are smooth not flaky and it is evergreen not deciduous (bare in the winter).

So this is just a small sample of what can be found in the Motuihe Island nursery. There are many more stories to be told. Pingao, a sedge that has been muscled off the sand dunes by introduced marram grass. Rewa Rewa a native of the protea family and sourced form just three remaining trees on the island. Similarly with Kowhai. Seed was collected from around six old and dying trees in the old bush above where we now go to see whero the tuatara.
Much good work has been and is being achieved. Continue to be vigilant. If you do get out over the summer check that the watering is working and if need be hand water the plants. Should you be out walking take a bag and secateurs and collect any available seeds.
Phil and Jill  

Heritage

Trees that Count
The Motuihe project contributed 3,219 trees this year to the Trees that Count national native tree planting effort. The total for the nation this year is 5.5 million. To qualify the tree must be indigenous to New Zealand, a species that has the potential to reach a minimum height of 5 metres at maturity and deliberately planted. 
Tuatara Monitoring
Eco Quest supplied me with this report on their tuatara monitoring programme this year. They have been permitted by DoC to carry this work out.
In April 2019, students and staff from the EcoQuest Education Foundation carried out a survey of Motuihe's tuatara population. The tuatara were released in 2012, and some follow-up monitoring was carried out at the time, but there had been no formal surveys since.
We were able to capture and measure eight adults from the original translocation, plus four juveniles that have hatched from eggs laid on Motuihe. All the adults have microchips implanted, and this enabled us to calculate the growth of individuals over time. All the adults had grown since their release, with some increasing in weight by more than 50%. Some of the males are approaching 1kg in mass, which is about as large as tuatara are known to get in the wild.
All of our captures were in Orchard Bush, but there are eyewitness reports of tuatara as far afield as the DoC campsite. Between the growth that we observed in adults, the presence of juveniles hatched on the island, and their widespread distribution, it seems that tuatara are happy and doing very well on Motuihe.
Chris Longson
Lecturer
EcoQuest Education Foundation Te Rarangahau Taiao


Donation received
A big thank you to the many members of the Outboard Boating Club of Auckland who donated their refunded fuel deposits to the Motuihe Trust. Their generosity is really appreciated and the money will go to continuing to support this successful restoration project. 

TRIP REPORTS
Dreamweaver charter trip Thursday 5 December
What a beautiful day last Thursday! We had 50 volunteers mostly from Air NZ but also Travel Centre, Xero and Fuji Xerox plus a number of single volunteers.  Dreamweaver took us out and we went in by tender at Wharf Bay.  John and Peter Barron took a team for weeding and Callum and I took about 20 to the Snapper Bay stream source for a right good woolly battle.  Josh and Steph, the summer student contractors, did a great job helping out; Josh weeding and Steph in the nursery where plenty of weeding and organising was achieved.  BBQ went well followed by a proper summer swim session.  We tendered back out with 10 or more simply swimming back (to Dreamweaver not Auckland).  Really good day enjoyed by all.
Simon Sheen


Dreamweaver charter trip Friday 6 December
Perfect weather greeted 39 volunteers including 5 Trust regulars. Two inflatables were used to ferry us ashore on Wharf Bay which took some time. However, eventually everyone reached the nursery and the bulk of the group went out weeding. Josh led them to an area above Calypso Bay and they moved towards the trig station cutting down woolly nightshade. It was hot, hard work but Josh reported that a big clearance was made. In the nursery Steph and a smaller group moved the Putaputaweta and also potted up 85 Kahikatea with lots of nursery weeding achieved as well. Liz led a walk along Tieke track and also led the swimming. The cheerful, hard working group came from an interesting mix of corporates, Fuji Xerox, BNZ, Spark, Penguin Books, Chapman Tripp, and Genesis. A big thank you to everyone. 
The Motuihe Trust wishes all our volunteers and supporters a very merry Christmas and a happy and safe new year. Thank you everyone for the support you have given this wonderful project during 2019. 

Note: There will not be a newsletter in January.