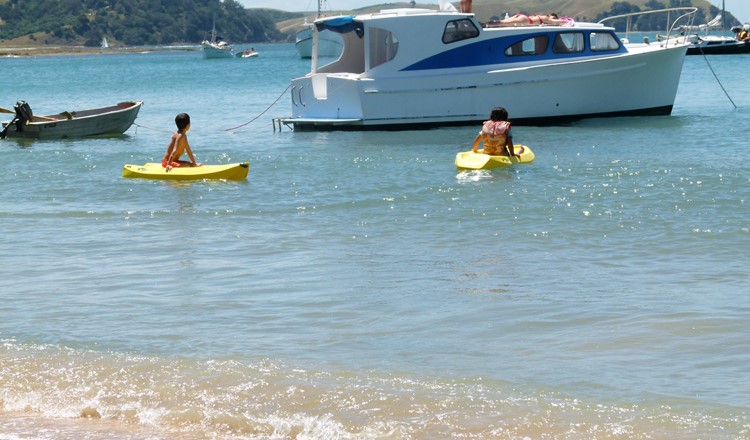 February 2022 Newsletter
No. 67
THE MOTUIHE TRUST REQUIRES ALL VOLUNTEERS TO HAVE A VACCINATION CERTIFICATE AS DO THE FERRY COMPANIES. 

During February there were 2 volunteer trips to Motuihe involving 53 volunteers and 11 Trust leaders.

The next volunteer days are: 
March 20 (booked out by Southern Spars)
April 3 and 24
May 15 and 29
June 12 and 26
July 10 and 24
Aug 7 and 21

Austrian Consul interned on Motuihe during WWI
I was contacted by Henry Langguth who is the grandson of Eugene Langguth who was interned on Motuihe between 1914 and 1918. Eugene arrived in Auckland in 1885 and established an import, export business exporting quality kauri gum to Germany and importing a range of products including electric light generators. The electric lights were installed in Smith and Caughey during a rebuild in 1900s and the also in the  Langguth family home in Victoria Ave. Remuera, built in 1910 and still standing today. It was rumored that Eugene had sent radio messages to Germany and he was arrested and interned. It was not possible for him to do this but the rumour stuck. His wife struggled to get permission to visit, she had to use consular contacts to get a letter of authorization. She campaigned after the war for internationals to be accepted as important for the future of NZ business. When Von Luckner visited Auckland in 1938 he gave Eugene a signed copy of his book. 
Fiona Alexander

TRIP REPORTS
13 February Red Boats
Postponed due to weather.

18 February Dreamweaver trip
The Dreamweaver took 41 of us on a beautiful calm summer's day for a day of weeding and nursery work.  Teams from Aurecon, Light Speed, Air NZ, the Museum and BNZ split into weeding teams under Mike, Frances, Colin, Graham and Simon.  The area around the end of the extension track (L4 and L5) was targeted for woolies and moth (the pods are here!).  Liz kept order in the nursery overseeing weeding and watering.  A swim was obligatory. Covid has messed with many a plan and this outing had 109 volunteers at various points.  Everyone had an enjoyable, safe and productive day topped by a glide past Owha (leopard seal) back at Westhaven Marina.  Once again Kirsty and the Dreamweaver team did us proud being staunch supporters of the Project.
Simon Sheen


Photo supplied by Simon Sheen

Sunday 20 February Red Boat trip
18 volunteers transferred to this date from the postponed trip on 13 February. We also had 5 Trust leaders. Half the group went weeding at Billy Goat Point with Wes and Julie and the other half went track edge clearing on Tieke track with Emma and Jackie. Fiona and 3 volunteers worked in the nursery, mainly watering as the irrigation system was giving problems. Big thanks to Rudi who helped to get the system going again. The majority of the volunteers were connected to the Gus Fisher Gallery on Shortland Street. Emily Parr has an exhibition of her work there. The art has a Motuihe theme as both of her Great, Great  Grandfathers had been interned on the island during WWI. Her exhibition is on until 2 April and the gallery is in the old Radio NZ building on Shortland Street.