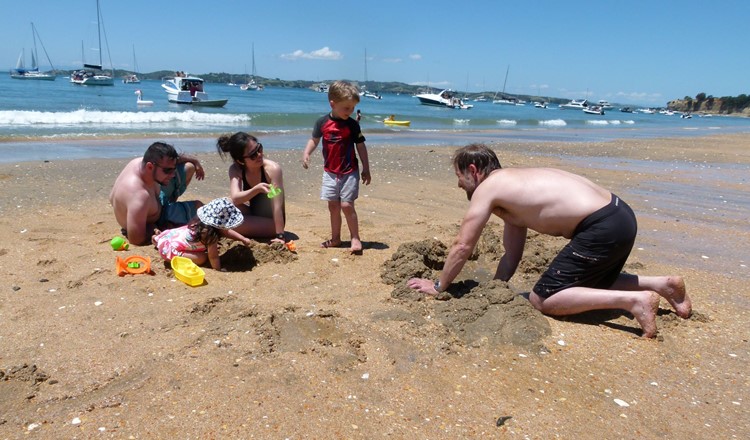 January 2021 Newsletter
During January there were three volunteer trips to Motuihe involving 88 adult volunteers including 27 of our regular leaders. 

The next volunteer days are: 
Water taxi weeding trips:
February 28
March 28

Welcome Back!
I hope you, our supporters, have had a good break over the summer holiday season and are ready to get involved again in this great project. The restoration of an island is no small venture and there are lots of ways you can contribute. Selling ice creams and giving out information in the kiosk, keeping the weeds under control, monitoring the wildlife, keeping the nursery ticking over, planting in the winter season and also financial support. 2021 should be a great year on Motuihe. We will be planting again, probably starting in April and hopefully the wharf will reopen in the near future. So lots to look forward to.

Des Townson (New Zealand Order of Merit) Naval Cadet on Motuihe in 1953
Anyone with a connection to yachting in Auckland would know the name Townson. When anchoring in any of the popular bays around the Hauraki Gulf it would be unusual to not see a Townson designed yacht nearby. To read Des's memories of HMNZS Tamaki on Motuihe and those of his friend Max Elliot click on the link. Of particular interest to the editor of this newsletter is the account of racing whalers around the island. In the early 60s. As part of a group from Howick Sailing Club, we raced the navy in whalers around Motuihe. www.motuihe.org.nz/About-the-island/Heritage/1941-1063-HMNZS-Tamaki/
Fiona Alexander

Ex navy building went to Rakino
I have spent some time trying to get confirmation that some of the navy buildings went to Rakino in the 1960s and formed the public buildings on the wharf. A long time resident of Rakino, Les Chapman, has confirmed that the story is correct. He says the buildings have been almost completely rebuilt now but the original ones came from Motuihe when the navy left. 


The Rakino hall as it is today. It originally came from Motuihe. Photo Fiona Alexander

von Luckner's flag


Images from Auckland War Memorial Museum Tamaki Paenga Hira Ref. W0953 694937 001-005
This is the German naval ensign the German internees made on Motuihe during WWI. The museum recently took it out of the glass cabinet to photograph it for us. It is made from a bed sheet sent to one of the cadets from the SS Elsass which was captured in Samoa. The grandmother of cadet Ernst Klohn was convinced that in a primitive place like New Zealand there would be no bedsheets. How she managed to get a parcel from Germany to New Zealand during the war is a mystery. This sheet is now over 100 years old and it is held in the Auckland museum. I am not sure if any sheets purchased today would last as long! You can just see the cadet's initials in the bottom right corner presumably embroidered by his grandmother. There is also a close up of the intricate eagle painted at the centre of the flag. Von Luckner was always very worried about being accused of spying so the boats he used, no matter how small, always flew the German naval ensign.

Foraging on Motuihe!
I have been doing a bit of foraging on the island, but sticking to introduced plants only. The Tui and Saddleback have been going crazy for the coprosma berries at the moment though and they are closely related to coffee so maybe that would be a good way to get an energy boost! So far on the island I have browsed on purslane, puha, beach silverbeet, crow's garlic and some lamb's quarters. I'm always happy to point out any edible plants to anyone interested too :) 
Bella Burgess (summer contractor)
 https://www.nzgeo.com/stories/the-weed-eaters/
 
Shearwater chick 2021


If you remember, last year we had one shearwater chick, the first to be born on Motuihe in 100 years. This year we had several eggs but only one hatched. This is the 2021 chick, just about ready to fly away. Photo from Jackie Rutherford. 


The oyster catchers appear to have done well this breeding season. photo by Claire Fergusson

TRIP REPORTS
10 January water taxi weeding trip
16 volunteers set out on a brilliant, sunny day. Lois and Bella led a weeding team of 11 and made a big hole in the woolly nightshade and rhamnus above Snapper Bay. Phil and Rebecca made good progress on rebuilding the plastic shade house, Jackie did a mammoth walk around the island changing camera batteries and retrieving memory cards, John, who was joined by Stuart (he and Denise had come over on their boat to deliver ice creams} dealt with woolly nightshade at Ohinerau and Fiona did more work on the pond drain. A very good day, with many of the volunteers being first timers which is great to see. 


Some of the weeding team. Photo from Bella.

Water Taxi Weeding trip 24 January
13 volunteers headed out on this breezy, cloudy day. It was great to meet Bella's family. Lucy, Graeme and Seymour joined the weeding group as did Bella's partner Nathan. Lois and Jill led the group to an area near the middle of the island and a good quantity of moth plant and woolly was removed. An interesting discussion over lunch about the naming of moth plant. Apparently, in the early settler days, living in huts with candles, people grew moth plant to attract moths away from the candles. Phil and Rebecca, with help from Margaret and Brian continued the rebuilding of the plastic house. Good progress made. Margaret also repotted flax. Brian installed a tap on the inside of the shower. He also tried to replace the washer in the dripping tap over one of the outside tubs but no one could find where the water for that tap is turned off. Jackie changed camera batteries and cards and Fiona continued to clear the pond drain. A good day with lots achieved. Thanks to everyone. 

Mid week Dreamweaver trip January 28
Bliss was it that day to be on the island, but to be young was very heaven*.  Able, enthusiastic, fun teams from XERO (30), AUT, BNZ and Chapman Tripp (15) had a great day experiencing Ihenga at its best.  59 set out on the Dreamweaver in warm conditions for a block tender landing where Patrick loaded our bags on his run about.  Bella and Steph led a moth team with Graham and Frances towards Calyspo while David and Simon's team went woolly (and the odd moth) hunting east of the nursery.  Back at base Claire had 300 cabbage bagged up as Jill's team cleared the Tieke track.  Beth struck out early to monitor island bird activity.
As the day became warmer and the weed count climbed teams filtered back to the nursery for lunch, clean up and a late burst of weeding seedlings in the covered nursery area.  A guided Tieke track walk was of some interest, but the swimming option was becoming obligatory.  We ended up leaving late as low tide meant a beach tender, which was just another excuse for a dip.  A highly enjoyable, fun day which was a summer highlight for many of our young volunteer friends.
*With apologies to Wordsworth
Simon Sheen


Volunteers return to Dreamweaver's tender while the mother ship waits off shore. photo by Jill Bishop



Happy weeders Photo by Jill Bishop