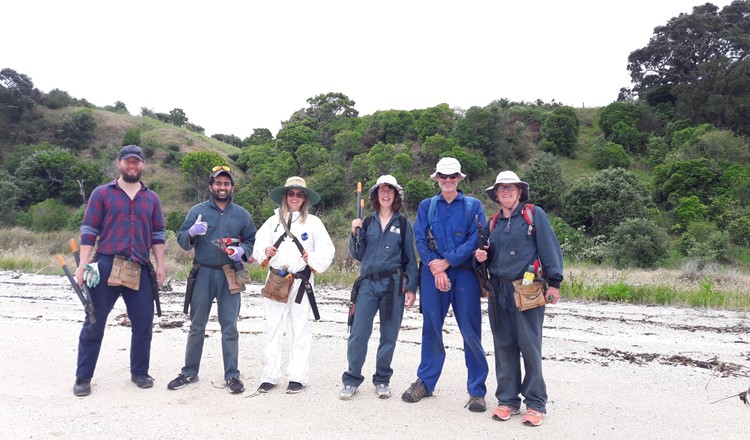 June 2021 Newsletter
During June there were 4 volunteer trips to Motuihe

A total of 177 volunteers which included 25 Trust regulars. A total of 999 trees were planted of which 904 will be included in the trees that count project. 

Do you have a day to give to the restoration of Motuihe Island this year?
Could be a Sunday or a mid week day. If everyone on our mailing list who is reasonably active would volunteer for at least one day this job will get done.  You do not need to have any skills, just a desire to help plant some trees.  

The next volunteer days are: 
Sundays: 11 July, 25 July, 8 August, 22 August, 5 September, 19 September, 3 October, 17 October.  Email Fiona on info@motuihe.org.nz for details
Fridays: 9 July, 23 July, 6 August, 20 August, 3 September, 17 September, 1 October, 15 October. Email Simon on volunteermotuihe@gmail.com for details

Public Ferry to Motuihe back on again!
On Sunday 13 June, the Red Boats ferry arrived at the Motuihe wharf. Our first public ferry since August 2019. A hopeful sign of better times ahead. 

Precision Planting
The planting programme on Motuihe, that started 20 years ago, was planned to have 3 stages. The first stage was mass planting of quick growing plants (primary colonizers) to create cover for other trees and to keep moisture in the soil. This was the period when 50,000 trees could be planted in one year. The next phase was mid succession trees of up to 10metres eg titoki and kanuka. Lastly comes the canopy trees, kauri, karaka etc. This is the stage we are at in 2021. The restoration project was expected to be completed in 25 years so we have another 4 years to get this last stage completed. This is the trickiest stage. Not only are we dealing with bigger trees, but they must be planted carefully in amongst the previous plantings. Also, the correct mix must be achieved to replace the forest as it was pre human occupation. We have a small, highly skilled group of leaders who are able to show volunteers where to plant and what to plant. Without this vital group, the planting programme would not be able to continue.
On this map the archeological sites are indicated in green. These must be avoided. The planting sites are marked in orange. We have selected 3 sites to start with. Groups have been working in the "horseshoe" and in "pug paddock" with good progress made. The grid lines help in identifying the planting sites and also the weeding sites. Areas are marked off on large maps in the woolshed. 


Muehlenbeckia
This endemic NZ shrub is common in cultivation around the world but extremely rare in the wild. It can easily be seen on Motuihe. It has small heart shaped deciduous leaves and a tangle of interlocking branches. It is this tangle that persuaded DoC not to put transmitters on our kiwi's legs as they could have been caught up in the Muehlenbeckia. See photo below. 


Muehlenbeckia in flower. Photo:  Lois Badham

Activity at the pond
I have had a camera set up at the pond for a couple of years. This year I altered it to film at night to try to see a kiwi drinking from the pond. I haven't seen a kiwi but I have been amazed at how much night activity there is. I have always thought birds went to sleep at night, but not so. The pond is busy, busy, busy, Lots of pukekos, pateke ducks, paradise ducks, plovers, a couple of hawks, swallows and lots of insects all moving about in the dark, feeding and drinking. I am very surprised. 
Fiona Alexander

TRIP REPORTS
Dreamweaver trip Friday June 4
Owha, the leopard seal, is now the standard start to the day as she lounges on a Westhaven pontoon.  With that treat ticked off 60 of us headed out on the Dreamweaver across a dreamy gulf.  The sun came out as we reached the island where Bella and Patrick greeted groups from ASB, Suncorp and ANZ along with 8 supervisors. Once the tractor was loaded we all headed to Pug Paddock where Phil, Jill, Jeanette and Bella led a team who planted 316 mixed natives.  Graham, Callum, Rebecca, Dave and Simon led the 'larger' half of the volunteers in a weeding session opposite Pug Paddock and off towards Calypso.  Two half bags of pods and countless woolies represented a good return. 
All our visitors enjoyed lunch back at the nursery and, other than a couple of brave souls who went for a swim, a number completed a comprehensive beach clean on the ever plastic strewn wharf beach.  Once again we all had a wonderful, productive and fun day.  Back at Westhaven Owha hadn't moved clearly enjoying the cloudless conditions. 
Simon Sheen


Moth plant warriors. Photo Simon Sheen

Sunday 13 June Red Boats ferry
45 people boarded The Red Boat at Z pier Westhaven. There were Rotary groups, school groups, and lots of individuals keen to help restore lovely Motuihe. At least 14 on board had never been to Motuihe before. 334 trees were planted in an area between the plastic tanks and Snapper Bay. Big thanks to Phil and Wes for supervising the planting. Fortunately we missed the worst of the rain. Lois and Jackie continued their work on Tieke track by pruning back foliage and cleaning drains and general maintenance. Michael Wood lead a group of building experts to examine the Surgeon's cottage. They discovered that there is no asbestos in the building which is one less hurdle for us to jump with our plan to convert the site to a visitor's centre. A happy group made good use of the bar on the return. Thanks to everyone.
Fiona Alexander

Dreamweaver trip Friday 25 June
Difficult to imagine better working conditions as 52 souls headed out on the Dreamweaver and Graeme joined with 5 on his boat from OBC.  Teams from Westpac, Google and ASB split into two crews (many on their second or third annual visit). 
One group went planting close to the Tieke track with Jill, Hazel, Lindsey, Christine with 229 mixed species now safely in the ground.  There was even time for excellent nursery work bagging, sorting and separating root-bound flax.
Mike led supervisors; Graham, Callum, Peter B, Simon, Dave, Colin, Maarten and Oliver on a highly productive weeding expedition between Calypso and Snapper bays. Two half bags of moth pods and a blizzard of dead woolies made for great entertainment. 
Google put on a tidy BBQ after which Liz took a guided tour on the Tieke track.  We finished off with a highly effective beach clean on wharf bay.  All of which was rewarded with tea and biscuits from Kirsty on the way home.  There was even a swimmer from ASB - respect. 
Simon Sheen

Red Boats trip Sunday 27 June
On a damp Sunday with a rainy and windy forecast for late afternoon, 15 volunteers and 4 other passengers took up the challenge and headed out to Motuihe. A fantastic group to work with helped brighten a dismal day. Again Motuihe worked its magic. The four kids were amazing workers with a great attitude along with the rest of the team. Special thanks to Wes Wana and Jill Soufflot for their great supervision.  
120 canopy trees were safely tucked into the wet ground  just below the plastic tanks on the north side of the track going to Calypso and everyone returned to the woolshed for a hot cuppa and late lunch.  After a brief break, a few went on a guided walk through Tieke track with Jill and the rest stayed in the woolshed doing nursery work, weeding Kakabeak containers and potting up 50 Poroporo.
The higher winds didn't appear and the drizzly rain didn't dampen the enthusiasm and spirits of a small but hardy group.  Thanks to all for another great day in paradise.
Lois Badham


The children worked exceptionally hard and achieved an amazing amount. 
 

Despite the wet conditions our hardy volunteers keep smiling. (Photos: Lois Badham)