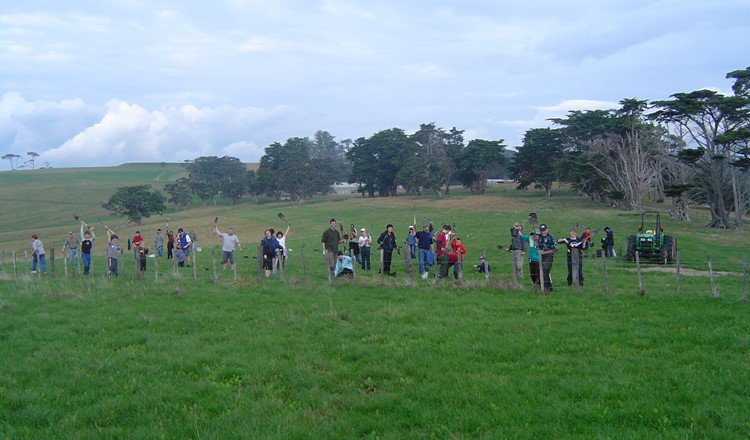 June 2022 Newsletter
There were 4 volunteer trips to Motuihe during June with 54 adult volunteers and 1 child and 12 volunteer leaders. 148 trees were planted.

The next volunteer days are: 
Sunday July 10, 24
August 7, 21
Email Fiona on info@motuihe.org.nz
For mid week trips email Simon on volunteermotuihe@gmail.com

Matariki ushers in the new planting season on Motuihe
The appearance of the star cluster Matariki coincides with the time of the year for planting trees on Motuihe. The star Tupu-a-rangi in particular looks out for our forests and wildlife. We had a successful start in June and hopefully some of you will be able to join us in July and August to carry on the good work. 

Forest and Bird in praise of Motuihe
Jill Bishop alerted me to an article in the latest edition of the Forest and Bird magazine winter 2022 No. 384 written by Paul White and Peter Gilderdale. Well worth a read. Here is a short extract.
"We found a living example of the Maori proverb "Ka mua, ka muri" walking backwards into the future. Motuihe is on a path of restoration that some determined human beings have made a reality. "



Our pair of Pateke ducks with two new chicks on the pond.

New Pest to watch out for PLAGUE SKINKS


Message from DoC:
We are extremely fortunate to currently have multiple islands without Plague Skinks in the Hauraki Gulf, or islands with very low numbers. Plague Skinks could be detrimental to the established reptile populations on these islands and so we would like everyone to be on high alert for these small yet invasive animals that can easily stowaway in any type of goods.
 Please see below some advice on how we can lower the incursion rate of Plague Skinks:
If you take goods or stores to islands please make sure you have checked these prior to loading – lift up stores and shake around to see if anything runs out.

 Make clear when talking to passengers that Plague Skinks can be in any belongings so to check thoroughly

If a Plague Skink or any pest is spotted on board call 0800 DOC HOT to report it. Catch and contain the skink – do not dispose of it.
TRIP REPORTS
Sunday 12 June Red Boat Cancelled due to strong winds
We had 30 volunteers booked on to the ferry, many of whom were unable to transfer to another date. However, cancelling was the correct call. The Red Boats management are very conscious of safety when the wind is SW and blowing strongly on to the Motuihe wharf. A cancellation is always disappointing but the safety of volunteers must come first. 

Friday 17 June  Dreamweaver Trip cancelled due to boat breakdown
We had 60 volunteers from EY, nextchapter, Westpac and Triton.  In addition 12 supervisors were set for Friday 17th June (which turned out to be a lovely day) but...on Wednesday we learnt that the Dreamweaver had mechanical issues and the Redboats couldn't help. A very disappointing outcome after all the organising and another illustration of the challenges we face with no scheduled service to the island.
Simon Sheen

Friday 17 June Midweek Team
5 volunteers and 1 volunteer team leader

Sunday 26 June Red Boat
A wonderful opening to the 2022 planting season. The 15 kiwi monitors who stayed overnight joined the 35 volunteers on the Red Boat to make an energetic and cheerful group. The focus of the day was infill planting and weeding between the Ranger's house and the wool shed which was planted in 2004-5. 148 large canopy trees, a mixture of Puriri, Kohekohe, Tawapou, Kowhai and Taraire were planted at 7 m spacing throughout the area. Infill canopy tree planting is a slow process so the group did well. The area was also cleared of weeds, Rhamnus, Moth Pant and Woolly Nightshade. Phil led a group in the nursery who weeded and tidied up the Kakabeak and bagged up 280 Pingao. To celebrate the start of the planting season we had a BBQ and Julie provided some very tasty soup and Jackie a carrot cake. We had some volunteers who had not been out to the island before and it was good to see some "old hands" we hadn't seen for a while.  A wonderful day, thanks to all.
Fiona Alexander



Jill Bishop planting a Puriri



Phil counts the bagged up Pingao.

Kiwi Survey nights June 4 and June 26
12 Volunteers and 3 volunteer team leaders
8 volunteers and 3 volunteer team leaders