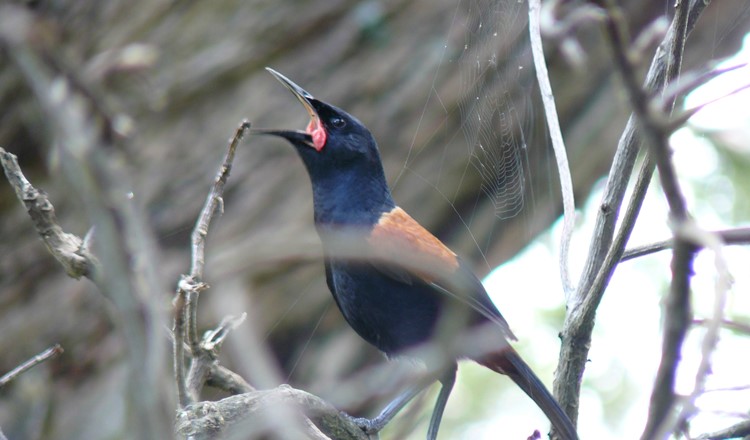 March 2019 Newsletter
During March there were 3 midweek trips involving 145 volunteers and 9 regulars, 3 Sunday trips involving 48 adult volunteers, 8 students, 6 children and 15 regulars. There was one school trip with 74 children 24 adults and 11 regulars. Approx. 43 plantings
. 
The next volunteer days are:
Fullers Sunday trips 14 April, 5 May, 19 May.
Red Boats mid week trips 2 April, 12 April, 17 April.
New Ranger appointed
We are very pleased to welcome John Mackenzie and his wife Carolyn to Motuihe. John has been a relieving ranger for DoC mostly on the inner Hauraki Gulf islands and has spent some time on Raoul island. John has been interested in the Hauraki Gulf for many years and he and Carolyn have a property on Rakino Island where they have been involved in improving the environment with plantings and pest control. He has had govenment positions in the Solomons, Outback Australia as well as New Zealand. Carolyn has been working as a teacher at Leigh Creek an ex mining town in South Australia where apparently the temperature is regularly near 50 degrees. The school was 80% Aboriginee and Carolyn mainly worked in reading recovery. John and Carolyn have two daughters and 3 grandchildren all living in Cambridge. Carolyn does relief teaching at a Cambridge primary school when it is available. Carolyn tells me she is very happy with the Motuihe Ranger's house and they are both loving being on Motuihe.
Motuihe Island Training sessions coming up
All Motuihe projects need volunteers who have a basic familiarity with the restoration/conservation/translocation work on the island. So whatever your primary interest, a really good first step is to do these 2 training sessions.
 
Monday 6 May  7 pm  Motuihe Basics –  venue central Auckland, to be notified.  The evening will provide background in the history and operation of the Trust,  introduce the variety of projects underway and planned, and give an overview of Health and Safety and core operational systems. This evening is open to anyone wanting to get more involved in any aspect of our work on the island, and is important background for potential kiosk operators,  guides and all small group leaders. 
Saturday 18 May   Nursery and Woolshed  - A  day on the island to become really familiar with the nursery operation and general  woolshed area, working with seedlings and seeds, and the core principles of planting out on the island.   Provisional arrangements: leave Okahu Bay at 9 am by water taxi.  Return to Okahu Bay about 5 pm.  Or stay overnight and join the public planting day on Sunday 19 May and put your newly learnt knowledge into practice.   Numbers will be limited as travel is by water taxi, so get in quickly.  Motuihe Trust is subsidising the cost of the water taxi but participants are asked to contribute $25. Send your name, email address and phone number to  hazel@breakthroughstrategies.co.nz   Preference will be given to those able to assist with volunteer trips. Rain date -  Saturday 25 May.
 
Weeding  We are also planning a weeding workshop for all those  who want to be actively involved in the weeding programme on the island.   This will probably be in July, details  to be advised. This  evening session will look at weed identification and how to make sure that weeds across the island are dealt to most effectively.
 
To register for any of the above sessions, email hazel@breakthroughstrategies.co.nz  with your name, email, phone number, and the sessions you are interested in.
TRIP REPORTS
Sunday 3 March Red Boat Public volunteer trip
A perfect sunny day with light winds. We had 4 adult volunteers and 2 children plus 6 regulars. 200 kakabeak were pricked out. Maintenance work carried out with Phil working on the irrigation system and Jill pumping up tyres. Hazel led an afternoon walk. Beautiful day on our beautiful island. 
Thursday 7 March 2019 Mid Week Volunteers
After various stragglers made it to pier Z,  Redboats headed off about 9am with 45 volunteers from AECOM, Westpac, Catch, FMA, Spark and Genesis. A gentle northerly meant we drifted onto the wharf and eventually set off for three work parties; Jill and our new recruit Hamish Graham organized the nursery bagging up 140 kakabeak and 75 Puriri. John took a team to collect seeds; poroporo, rewarewa, puriri, and wharangi with last two planted into seed trays. The nursery now looks extremely neat and in good order for autumn. Heather, a temporary DoC volunteer, joined us for the day looking for shore plovers. None found but she had a profitable time spotting various island inhabitants esp the two Oystercatcher chicks on Calypso bay. Simon took a weeding gang to the 'paperclip', above Ohinerau. Plenty of tobacco, gorse and moth dispatched. The BBQs had good workouts and the volunteers enjoyed walks, sunbathing and a swim. Another gloriously sundrenched day making progress.
Simon Sheen
Friday 15 Mid Week Red Boat Trip
This was a big day for a 40 odd Warehouse group contingent.  They brought their media team; cameras, film crew, drone (not used - no DoC permit) and will star in their internal communications.  It was the first attempt this year at planting.  John, Hamish and Simon took the majority of them, and a small Xero team, to weed and plant at the 'paper clip'. Heroic gorse clearance allowed 20 Puriri, 30 Manuka, 120 Toetoe, 50 Flax  and 20 Karaka to be planted.  On such a beautiful day we then prayed for rain.  Jill, Jeanette and Hazel set the rest of the group to work in the nursery.  As a result the shade area and opposite, as well as the main seedling area are really set up for the autumn/winter programme.  The BBQs got a work out on wharf beach and those that brought togs were rewarded.  Those that didn't looked envious.
Simon Sheen
Sunday 17 March Public Volunteer Day using Red Boats
A total of 31 volunteers from ANZ Contact Centre, English Language Academy and some individuals plus 5 regulars. The English Language Academy numbers were down due to the dreadful shooting in Christchurch on Friday which affected some of their students. In the nursery 170 Five Fingers were potted up, 120 Kowhai pricked out, 4 trays of Poroporo sewn and 2 trays of Kahikatea so a productive day.John and Edward tackled some moth plant. A bush walk in the afternoon and a swim ended a very pleasant day. 
Phil demonstrates potting up to an attentive group of volunteers.
Thursday 21 March Mid Week Red Boat Trip
Once again Simon did a great job filling Reo with 60 keen volunteers from ANZ, Westpac, Timberlands and Suncorp. Those representing the Trust were John, Simon, Hamish and Jill.  It was another magic autumn day on Motuihe and we were determined to achieve heaps.  Both John and Simon went to great lengths describing how tough the weeding would be (long walk, hard yakka etc) with the result that Hamish and Jill ended up with 35 in the nursery!  The previous week we had tried to up-sell the need for nursery workers but sadly only 8 wanted to work with Jill. What a difference with this trip.
Westpac volunteers hard at work in the nursery
John and Simon got the weeders all togged up for a long day out at Bald Knob and Ricoh Valley areas. Moth plant and woolly nightshade were targeted with great gusto.  Some of the weeders did not reappear till 2.30, the advantage of taking lunch and swimming gear out with them. You can do this in nice weather but come winter can't see us keeping the weeders out till 2.30
.
In the nursery Hamish was in charge of a mass weeding effort in C block including the weed infested flax in the root trainers. This was a job that previous groups had said "no thanks "to.  Jill had the rest weeding and moving Mahoe from B1 and B2 blocks to C block freeing up a lot of space in B block. With so many helpers we had the luxury of putting like plants with like (in some areas), sorting all the bags and even untangling and getting rid of weeds on the bird netting.  Can report no seeds were sown and the only seedlings pricked out were a few Kowhai to satisfy the needs of the Timberlands film crew.
Those working in the nursery area enjoyed a barbecue followed by the option of a walk in Tieke Track or swim and beach cleanup. Timberlands did a great job of cleaning the beach, quite a big task as the extreme low tide meant a huge beach area to cover.
It was good to meet John Mackenzie's wife Carolyn who is keen to see what volunteers do on the island. Welcome to both John and Carolyn.
Jill Bishop
Tuesday 26 March King's School Trip 
On a beautiful sunny day 72 boys aged 8 and 9 from King's School with 24 teachers and parents and 11 Trust leaders set off for an educational experience on Motuihe. The boys were great, interested and well behaved. On the nature walk they saw tuatara and geckos plus a number of different birds. In the nursery 352 cabbage trees were pricked out. A happy day for everyone
.
King's school students worked hard in the nursery.
Sunday 31 March Public Volunteer Day
29 volunteers including 9 students from EGGS, 13 adults, 4 children and 4 regulars did a sterling job in a variety of work around the nursery. With the small amount of potting mix available until next week's delivery a small amount of shore splurge (Euphorbia glauca) and cabbage trees were potted up.  
Welcome back to Michael Harrison who travelled up from Rotorua especially to visit Motuihe and led a small team out for seed collection.  They came back with a tremendous number of kohekohe seeds and toetoe.  Seed trays were prepared of pingao, kanuka, wharangi, koromiko, rewarewa, kohekohe, cabbage trees, flax and Manuka.  A small team went with John and planted out 33 plants.  The anticipated rain tomorrow will help settle these plants in.   Thanks to the EGGS team who worked after lunch weeding around the nursery. These girls had an amazing helpful attitude.  Hazel and her group untangled the clematis and trimmed the plants back in readiness for planting this season. Hazel led an afternoon guided walk through Tieke Track.  Emma and her small crew visited kiwi monitoring cameras to change the SD cards.  
All in all, a great amount of work achieved by a small team and what was better - the rain held off and we all arrived back to the city dry.
Lois Badham