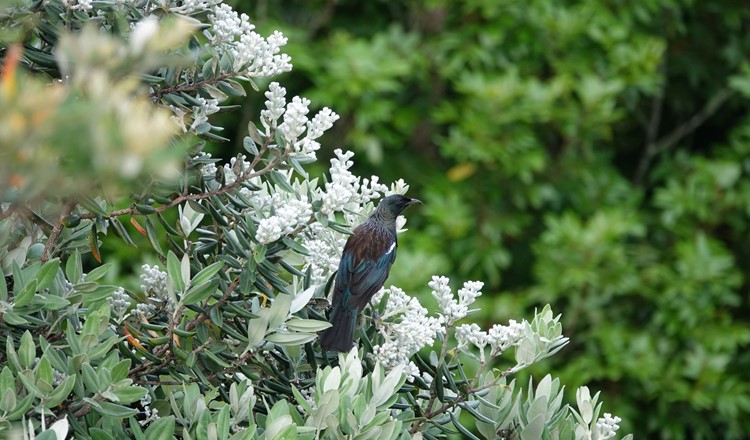 March 2022 Newsletter
During March there were 3 trips to Motuihe and 1 cancelled trip due to weather. 61 adult volunteers were involved and 14 Trust leaders. 
The next Sunday volunteer days are: 
April 3 (Full) and 24 (full)
May 15 and 29
June 12 and 26
July 10 and 24
Aug 7 and 21
IT IS ALL POSITIVE NEWS FROM MOTUIHE!
David Waters Photos 2022
David has been taking a series of photos of the restoration of the island since 2007. He has 40 GPS locations and he takes a photo from each site to show the changes over the years. His last photos were in 2019 until he had the opportunity to take a helicopter ride over the island this year with Julie Thomson, another keen photographer of Motuihe. Below are two examples of his helicopter photos. As John Laurence said, "the island is now reclothed". Below is a link to his helicopter photos. The full set of his photos is on our website www.motuihe.org.nz > About the Island > Preserving the island > Biodiversity > Restoration Progress. Well done David, a big thank you from all of us who love this island.
h

ttps://flickr.com/photos/davidwaters/albums/72177720297058804/
Rotarians bearing gifts for the Motuihe Project.
On Saturday March 5, after months of planning, fund raising, purchasing and waiting for delivery during lockdown, Elaine Meade of Rotary Westhaven was able to deliver eight new dual-sensor trail cameras plus SD cards and rechargeable batteries for use by our camera team. Her team from across the Auckland district joined with our camera team, to check out the new cameras and learn how to set them up with batteries and cards ready for installation in the field. The cameras installed on Saturday are being triggered by movement (night or day) and are recording 10 second videos of some of our most secretive taonga species such as Little Spotted Kiwi, Tuatara, Little Blue Penguins and Wētāpunga. These videos give us important feedback on the health, dispersal and reproductive success of these species. They also keep up extra surveillance for unwanted pests. Four of the Rotary crew have signed up for our camera team. 
Support for the Motuihe Island Restoration Trust by Rotary Westhaven began in 2005 with their special weed-clearing and planting project producing the lovely "Rotary Lookout" spot on the Tieke track. Their continued support has provided lots of planting, the solar panels on the kiosk and our familiar green storage box for spades.
Thank you Rotary Westhaven, Rotary East Coast Bays and Rotary Hillsborough-Lynfield-Mt Roskill.
Julie Thomson
The Presentation
The Rotary Group
Set up
Installation
Summer Ranger Athow enjoyed Motuihe
Our summer ranger started on Motuihe in November and his contract ends in April. Athow has been a great asset to the island, hard working and always ready to help. He told me he has thoroughly enjoyed his time on Motuihe. He didn't even mind asking people to take their dogs off the island as he found 99.9% of people were co-operative. We wish you all the best for your future plans Athow.
Life on the Motuihe Pond
At this time of the year the pond is very low with about 250 mm of water and enough space around it to enable anyone to walk right around it easily. The water fowl have to compete for space particularly as there is now an established pair of mallard ducks as well as the paradise and pateke ducks and pukekos. The mallards had a chick but it seems to have disappeared. The pukekos also had a chick but I didn't see it on a recent visit. The ducks are fortunate in that the flax hangs over the pond and they can get in under it so they cannot be seen from above. However the black back gulls and hawks are very quick. The algal bloom that was seen in recent months has gone.
Mallard and chick taken Feb 2022 Bushnell camera set up at the pond
Pukeko and chick Feb 2022 Bushnell camera set up at the pond.
Morepork
While I was on kiosk duty on 27 March, several people came to tell me they had seen a morepork. Does this mean our little owl is more prevalent on the island? Are they enjoying the improved habitat we have created for them? I hope so.
Navigation buoy goes AWOL again
The port hand navigation buoy that marks the reef between the Motuihe wharf and the Motuihe channel broke loose during the cyclone. Athow was quick to realize what had happened and found it washed up on Wharf Bay. The Harbour Master was notified and he came and collected it. The buoy has been replaced and it withstood the strong winds we have experienced over the last few days so hopefully it has a better mooring. Big thank you to the Harbour Master for getting this fixed so quickly.
TRIP REPORTS
Sunday 6 March
A very small group of 3, Phil, Jill and Cath but they managed to prick out 288 Kaka beak into PB3s. Phil also did some work on the irrigation system and Jill checked cameras.
Sunday 20 March
Cancelled due to weather.
Wednesday 23 March Dreamweaver trip
In a week of howling gales and torrential downpours 50 volunteers somehow picked a dry, calm and warm day to enjoy near perfect conditions for weeding and track clearance. Enthusiastic teams from XERO, Avanti finance and PFI split into Tieke track clearers; led by Liz and Darion who tidied up the track, culverts and did a spot of pruning; and woolly weeders led by Colin, Graham and Simon.  The latter crews dropped down from the main track towards Taraire Bush.  In the couple of years since the area was cleared the woolies have been busy.  Weeders filtered down both sides of Taraire (grid L7) and even managed half a bag of moth pods.  There was just time for a beach clean before gliding away off the wharf.
A few swimmers took advantage of the afternoon conditions and most took advantage of the Dreamweaver bar on the way home. No sign of Owha at Westhaven Marina but otherwise another great day for all concerned.
Simon Sheen
Loading Dreamweaver at Z pier (photo by Simon Sheen)
Weeding above Taraire Bush (photo by Simon Sheen)