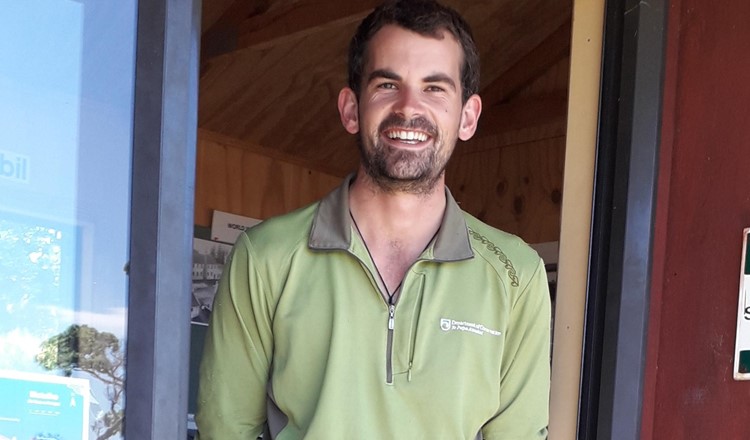 November 2022 Newsletter
During November there were 3 volunteer trips to Motuihe and 3 cancelled. 106 volunteers made the trip with 26 Trust leaders. November has been a difficult month for us with rain and wind. 

The next volunteer days are: 
Sunday trips December 11, January 8 and 22, February 12 and 26, March 12 and 26
Contact Fiona on info@motuihe.org.nz
Midweek December 2 and 9
Contact Simon on volunteermotuihe@gmail.com
NOTE CHANGE IN SUNDAY DECEMBER DATE 4th cancelled and moved to 11th.

Volunteers Needed! Can you help?
We need more volunteers for our last Sunday trip of the year on December 11th. Please consider volunteering as we want to leave our three main activities, weeding, tracks and nursery work in as good a position as possible before the Christmas break. No experience necessary and a range of tasks for all abilities. Email Fiona on info@motuihe.org.nz for details. 

Farewell to Patrick Van Diepen
Patrick has been Motuihe's DoC ranger since March 2020. He resigned towards the end of October and is going to work for DoC in Marlborough where he will be controlling pests such as goats and deer. He brought his parents out to the island on November 6 with his girlfriend Carys. Patrick showed them around and they joined us for a BBQ at the Woolshed. Patrick has been a very obliging ranger and we are sorry to see him go. Athow will be the temporary ranger over the summer while DoC interviews candidates for the permanent position. 



Athow, Mr Van Diepen, Carys, Patrick and Mrs Van Diepen

Royal Society for the Protection of Sea Birds
This group came out to New Zealand from England and Scotland to look at seabirds like Gannets and Albatross's. They included in their itinerary a visit to our Fluttering Shearwaters colony. The trip didn't go ahead due to bad weather on the day but it is interesting to note that all the hard work over the years to attract these birds has gained international attention.

Walter von Zatorski 


Sometimes I receive an email addressed to the Motuihe Trust that opens up a whole world of information about the history of the island. An email arrived from Rebecca Crompton in England who wished to order a copy of "The Sea Devil" the book by James Bade about von Luckner. She mentioned that she was the grand daughter of Walter von Zatorski the man who made the sextant which enabled the escapees to navigate to the Kermadec Islands. Her mother, Edda Clarke, is still alive and I asked her to send me any information she had about her father's time on Motuihe. 

Walter von Zatorski was a young marine cadet in his early 20s learning to be a ship's officer on the SS Elsass, a German Lloyds steamer. They were in Pago Pago, American Samoa when WWI broke out (America was not in the war at that time). They decided to sail to Apia in Western Samoa where they were incorrectly informed that Admiral von Spee's East Asia Squadron was located, so they could join the German navy. 

Although civilians they were captured and transported to New Zealand. It must have been difficult for the government of the day to know what to do with a group of 11 fit young Germen men, trained to be ship's officers but not in the German navy. They were initially interned in Mt Eden prison and from the tone of Edda's email the family are still resentful about that as the men were not criminals. They were moved to Sommes Island and finally to Motuihe Island. As they were captured right at the beginning of the war in 1914 they were interned for 4 years until the end in 1918. Edda's father described the security as very slack so they were able to move around and virtually do what they liked. Walter learned carpentry skills and built himself a little house near the cliff facing Motutapu. This explains his ability to work on the sextant without being seen. He was climbing around the coast one day and found a boat washed up. He hid it in a cave. With some of his fellow cadets they enlarged the boat and stole provisions from the camp. Unfortunately for them when it was nearly ready, there was a big landslide after heavy rain and the cave with the boat in it was buried. 

When Count von Luckner arrived on the island he took over the escape plans. Walter von Zatorski was one of the occupants of the Pearl which was used to escape from the island. Using von Zatorski's handmade sextant and a map copied from a school atlas, the men navigated an accurate course to the Kermadec Islands - around 1000 kilometres northeast of New Zealand - before they were recaptured. The New Zealand government confiscated the sextant on the prisoners' recapture. However, the fine workmanship of the piece was greatly admired and it was gifted to Te Papa's predecessor, the Dominion Museum, in 1918. Walter was reinterned on Sommes Island and later Featherstone before being repatriated back to Germany at the end of the war. 

After the war he became captain of the Training ship Breman which sailed around Cape Horn 16 times with no engine. He received the German Federal Cross of Merit and also the first German seaman to receive the Amicale International Des Capitaines Au Long Cours Cap Hornier, a French award for rounding the horn in a sailing ship. 

The family asked Te Papa to loan the sextant to a German museum so Walter could see it again but they refused. However, he did correspond with the curator and described how he made it. The family visited in the 1990s and saw the sextant. They also visited Motuihe and were shown around by Ronnie, Terry and Michael who they fondly remember. 



The sextant that Walter made from a primus stove, hinges and other scraps of metal he found.

TRIP REPORTS
Friday 4 November Dreamweaver Trip
Nursery
Another excellent day.
 Supervised by Jill and Phil and well supported by Kath, Leigh and David, 200 cabbage trees were rescued from the flax stockpile and pricked out. Then 140 coastal mahoe and 113 kahikatea were rebaged and fertilised. Later the weeding of totara and kaka beak began.
 At the end of the day a further 100 cabbage trees, all nicely bagged, were discovered. On our next visit these will be added to those placed in B block
Putaputaweta (Carpodetus serratus) and five finger (Pseudopanax lessonii ) were sown.
The visiting organisations were Marsh, Landmark, KPMG, WSP and Vodafone. The efforts by these people, led by Leigh, to uplift the embedded flax in the toilet block must be noted. After lifting the entangled plants the plastic bags had to be removed. Finally the plants were tossed into the trailer.  These flax will be taken and laid out into damper sites where hopefully some will take.
There are a further 7 mid week trips proposed between now and Christmas. A great supplement to the scheduled 3 weekend visits. Rebagging and fertilising to date is paying dividends. Puriri for instance, that a month ago were sorry sticks, are now in full leaf. However:there is much more rebagging ahead of us
there are titoki, totara, rimu and clematis to be pricked out

the renovations on the plastic house are coming to an end,

i

rrigation is to be installed

and plants / seeds moved in for the summer.
So do not relax, come along and assist. Efforts now are going to ensure that there is the stock for planting out next season.
Phil Francis
Simon's Report
49 volunteers from Landmark, KPMG, WSP, Marsh and Vodafone set off on the Dreamweaver under cloudy skies with the threat of rain, only to spend the day in hot and dry conditions closely resembling a true summer's day.  Phil, Jill, Kath (welcome), John, Leigh and David arrived courtesy of DoC and had a great day in the nursery (see Phil's nursery report).  John led a team that cleared the Tieke extension track, while Dave, Graham (welcome back) and Simon took a team weeding; in the NE sector beyond the water tank on the Calypso track - impressive, if a little warm, work.  A number took advantage of the SW + sunny weather to swim off Ocean beach.  All back safely at pier Z for another successful mission.
 
Sunday 6 November Red Boat
Another sunny day in Auckland as the Red Boat set off with 15 volunteers and 14 Trust leaders. The bulk of the group were led by Julie to the far eastern end of the island near Bald Knob to carry out maintenance work on the gheko monitoring stations. They were preparing for the monitoring activities over the summer. The stations had to be found, grass cleared from around them, any repairs carried out and flags installed so they were easier to find. This was hard work on a steep slope so some took the opportunity to have a swim.
The rest of the group worked with Phil in the nursery. 109 Cabbage and 55 five finger plus 10 assorted were tidied up and fertilised. Brian worked on the construction of the new plastic house and Allen helped Phil install irrigation. Stuart and Denise checked and tidied up the shower in preparation for the arrival of the summer contractors on Friday 11th. John did a number of delivery jobs and also helped get the old BBQ working while Wes checked out the weed spray situation after returning from the gheko activity. We farewelled Patrick our DoC ranger who was visiting with his family. 
An excellent day, thanks to everyone. 

Friday 11th cancelled due to weather

Thursday 17th Dreamweaver trip
Metservice had predicted downpours for this Dreamweaver trip....but the 48 ASB volunteers remained dry until work was done and lunch almost completed. An enthusiastic nursery team, led by Phil, Jill and Dina succeeded in pricking out 480 Totara (PB3/4), 200 Tawapou (PB3) and 30 Rimu (PB3/4).  John and Graeme headed south with a track clearing/weeding team and Simon and the two 'new' summer Rangers went weeding off the track to Calypso (planting area next autumn).
Some lucky visitors had a treat on the way to the wharf; a pod of Orca in wharf bay.  This resulted in a dozen or so Eagle rays gliding along just off wharf road (trying to look inconspicuous) and a school of Trevally trying to jump onto the wharf. We boarded the Dreamweaver a little early, in the dry. It belted down as we crossed to Auckland.....and then stopped as we arrived safely back at pier Z.  Good day. 
 Simon Sheen


ASB volunteers (photo from Simon)


Simon's wonderful photo of an Eagle Ray in Wharf Bay hiding from an Orca.

Sunday 20 November Red Boat trip cancelled due to weather

Friday 25 November Dreamweaver trip cancelled due to weather