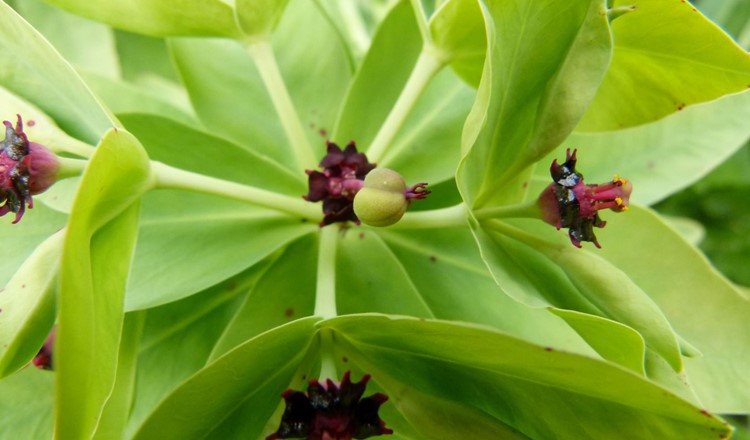 August 2022 Newsletter
The header photo is Shore Spurge a coastal plant endemic to New Zealand. It is in decline. The Motuihe nursery has grown many hundreds of plants which have mainly been planted out on the sand dunes at the eastern end of the island. This link will give you more information about Euphorbia Glauca.

During August there were 3 volunteer trips to Motuihe, 1 mid week and 2 Sunday and also 1 cancelled trip.  A total of 107 volunteers which included 46 Adults, 31 Tertiary students, 28 Secondary students and 2 children. 25 Trust Leaders were involved. 524 trees were planted. . 

The next volunteer days are: 
Sunday trips September 4 and 18, October 16 and November 6 and 20, December 4
Contact Fiona on info@motuihe.org.nz
Midweek September 14, 16 and 21, October 7 and 18, November 4 and December 2. 
Contact Simon on volunteermotuihe@gmail.com

Woolshed roller door
This might look like any old boring roller door but to the volunteers who use the woolshed it is a joy to behold!. The old roller door become unusable before the lock downs and ever since the woolshed has been a gloomy, dark place. Fortunately Jackie Rutherford knew Al Grant and he offered to install a new door. Al and his brother did the bulk of the installation in April but some parts of the kitset were missing and he came out on Sunday 21 and completed the job. The door rolls up and down effortlessly. The roller door is not only for light and ventilation but it is a safety feature, being the only fire exit on the northern side of the building. A big, big thank you to the two Grant brothers. 



Photo Jackie Rutherford

Addition to the Heritage section of the Motuihe website
A page describing the boats that have served Motuihe, ferries, barges, charters and water taxis. The page is a work in progress as I found it very difficult to get information. In particular I cannot find a date for the start of Fuller's service to Motuihe although I have asked a number of sources. If anyone has anything to add to the page I would love to hear from you. Fiona at info@motuihe.org.nz.
https://www.motuihe.org.nz/about-the-island/heritage/island-transport/

New Bunks in Woolshed
The Trust has undertaken to replace the bunks in the woolshed. The previous bunks were second hand in 2000 and are rusty and rickety. Unfortunately the budget allocated only paid for two out of the four bunks required and two mattresses out of the eight required. However the two purchased were transported out to the island by DoC and Stuart has assembled them. They look great and will be far more comfortable for volunteers. Bella Burgess, our grant application writer, is applying for the additional $3,700 required to complete the project. She would be interested in any suggestions for funders.



Motuihe at Te Papa
This video on the Te Papa website has been around for a few years, but in the light of the climate disasters we are witnessing, it is timely to remind ourselves of how important the Motuihe project is. 

TRIP REPORTS
Mid week mixed boats Friday 5 August
The fog descended around 7am and stayed all morning.  The 17 volunteers from Auckland Council, 4 Tawharanui volunteers (their project was water logged) and 10 regulars (Dave is back from the UK and qualifies as a regular) arrived on the DoC boat, Graeme's boat, Sealegs and the taxi. Once we'd fumbled across the gulf and united we started by planting the 35 plants we had left behind on the previous trip.   Then we joined the team of weeders on the right hand side of the track to Ocean Beach. As the weeders were doing an amazing job felling Rhamnus and Woollies, the planters put in another 165 plants. The total for the day was 200 plants. 
Puriri.85, Taraire.34, Nikau 15, Kahikatea 25, Kowhai 11, Kohekohe 15.
Back at the nursery, after the AC team had enjoyed their lunch break on a sunny Ocean Beach we re-bagged (PB3-5) 50 odd coastal mahoe and two dozen tray-bound puriri. The day now being sunny, warm and calm (and the Doc and Graeme having left) we had an excellent bush walk through the Tieke track.  A few small weeds were removed and the group commented on what an excellent job had been done on track maintenance - well done. The taxi left around 4pm with all souls safe and sound.
Simon Sheen
Editor: Congratulations to Simon for pulling together a trip involving 3 groups on 3 different boats. Whew!!



Ross Iremonger disappearing into the Kikuya (photo Simon Sheen)


Graeme Seymour is a regular mid week volunteer (photo Simon Sheen)

Sunday 7 August Red Boat Trip
It was touch and go whether we went or not as the forecast was for rain all day. However the volunteers made the brave call to go and it turned out to be the right decision. Very little wind, no fog and no rain until after lunch. There were 43 volunteers made up of 7 Trust leaders, 31 International students from Auckland University and 5 adult volunteers. Two planting/weeding groups led by Emma and David and Ian and Jill Soufflot planted 119 canopy trees, 30 Taraire, 30 Puriri, 22 Kohekohe, 5 Kowhai and 32 Tawapou. In the nursery Hazel organized a group of students who pricked out 168 Kohekohe. Stuart assembled the second bunk and Brian built another bench in the plastic house There was a quick walk after lunch but the rain set in so we left early at 2.30 pm. A surprisingly good day, thanks to everyone especially for the positivity displayed. 
The students came from a number of countries, including Delaware in USA. Auckland Uni and Delaware Uni have an exchange programme. The students are in NZ for one semester and while here they have to plant trees as a way of off setting their carbon emissions from flying here. Interesting idea. 
Fiona Alexander


International Students from Auckland University (photo by Emma Salmon)


International students from Auckland University (photo by Emma Salmon)


The nursery group from Auckland University (photo Fiona Alexander)

21 August Red Boat Sunday trip
A surprisingly warm, sunny day after a week of rain and floods all over the country. 50 volunteers and 8 leaders had an enjoyable and productive day on the island which was very wet but no damage done that we could see. The planting group, made up mainly of 20 boys from Auckland Grammar School and led by Julie, Jacqui, Emma and Tyson planted 170 Kahikatea trees in difficult terrain in a stream valley above Snapper Bay. The track group from Wakaaranga Rangers led by Jackie, cleared drains, cut back foliage  and checked the track for damage. In the nursery, 150 Puriri were bagged into PB5s. Lois and Phil planted some Kauri trees and assisted the Wakaaranga Rangers to plant 3 trees they have sponsored, a Puriri, a Pohutukawa and a Kauri. A wonderful effort from a small group. 7 Nikaus were also planted. It was great to see so many young people working hard to assist this positive, environmental project. The BBQ was more up market than usual with tasty sausages provided by Harmony organized by Jill Soufflot. A big thanks to everyone. 


Auckland Grammar arrive on Motuihe (photo by David Wadams)



Wakaaranga Rangers (photo Jacqui Oldham)