Island Transport
This page is a work in progress. If you have additional information to add please contact Fiona on info@motuihe.org.nz.
Transport to and from an island is always fraught with difficulty and although Motuihe is close to Auckland, it still experiences transport difficulties. The wharf is exposed to the prevailing SW wind making landing passengers and freight in windy conditions a challenge.
Much of the information on this page was supplied by Ronnie Harrison, who together with her partner Terry Gibbons were the concessionaires on the island from 1984 initially with the kiosk and later also the farm.
Ferries/Charter boats
Baroona
Built in 1904 she was transformed from a fishing trawler to a 2 deck ferry in 1933 when owned by George Niccol. She ran a service to Motuihe, Ostend and Surfdale. In 1965 she was sold to the North Shore Ferry company and was retired in 1989 when she was sold to the Baroona Trust. She became a Jolly Roger Restaurant at the side of the Great South Road in South Auckland before finally being demolished in 2009.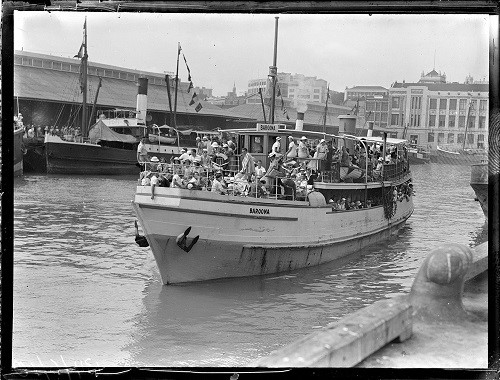 Baroona pulling away from the Auckland wharves. (click on photo to enlarge)
Blue Boats
There were several Blue boats the best known being Olive Rose. The company ran a regular service from 1936 to the late 1950s to Rangitoto Wharf, Islington Bay and also to Motuihe. Olive Rose, was built in 1925, is 47 feet long with a 55 hp engine and she could carry 140 passengers while doing 9 knots. Roni Harrison remembers the Blue Boats coming to the island when they were owned by the Julian brothers Harry and Lance.
One of their early skippers was Dave Richards (Taffy). He skippered Kestrel for the Devonport Ferry Co, Baroona and the Blue Boats. Blue boats teamed up with Fullers Northland but the sharemarket crash of 1987 caused Fullers Auckland to split from Fullers Northland.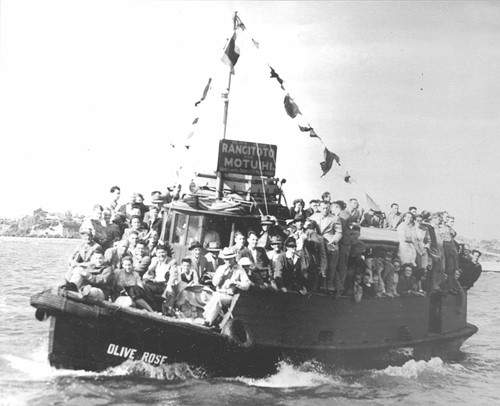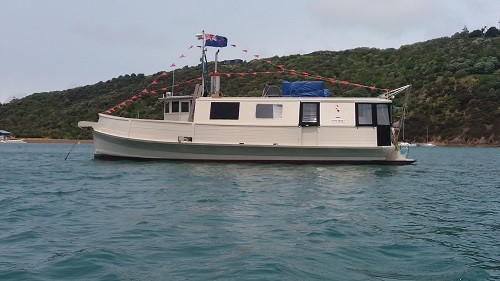 Top photo Olive Rose with a few passengers on board. (click photo to enlarge)
Bottom photo Olive Rose today (photo 2000) moored at Matiatia.
360 Fullers
George and Douglas Hudson bought the failing North Shore ferry company in 1981. Blue boats then teamed up with Fullers Northland. The transition to a modern operation began in 1987 with the arrival of Quickcat the first catamaran. A date for the start of Fuller's service to Motuihe is unknown at present but in 2014 Fullers were running a fortnightly ferry service to Motuihe. In 2018 Fullers and 360Discovery merged to form Fullers 360. The company is owned by Sir Brian Souter a Scottish businessman who owns many transport companies around the world. Fullers 360 ran a regular Sunday fortnightly service to Motuihe shared with volunteers for Motutapu.  Fullers stopped a regular service to Motuihe when the wharf closed in August 2019 and the company decided not to resume the service when the wharf reopened in March 2021.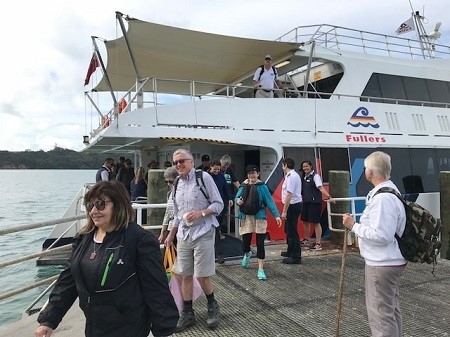 Passengers disembark on to Motuihe wharf.
Red Boats
Reo Moana was operated by Jim Insley as a charter boat and Roni remembers him bringing out clients for picnics on Motuihe.
Andrew Somers bought the company and in 2015 were advertising Wednesday trips to Motuihe if a minimum of 10 passengers was reached. In 2018 Red Boats ran a public ferry service from 26 December through to Easter. Mid week volunteer trips were regularly organized by Simon Sheen.
When Fullers pulled out of Motuihe in 2021 The Red Boats picked up the service in June 2021 with fortnightly Sunday volunteer trips through the winter and a summer public ferry from Boxing Day through to Easter.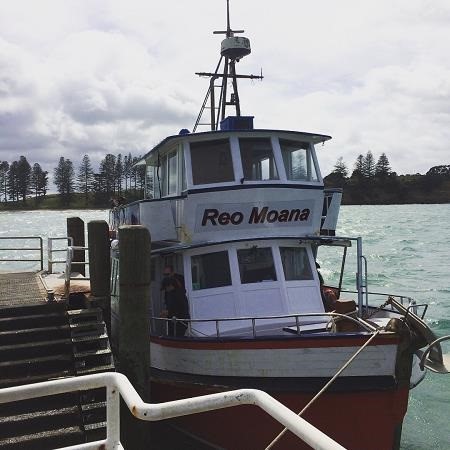 Reo Moana is the larger of the two Red Boat ferries, Hogwash is a bit smaller.
North Shore Ferry Company
They had two boats in their fleet the Ngaroma and the Motunui. They were ex naval Fairmiles and were used as charter boats to bring large groups of people to the island. Unfortunately the Fairmiles were long and narrow and rolled badly.  Lester Souby was the skipper of the Ngaroma. Sold to George and Douglas Hudson in 1981 and they amalgamated into Fullers.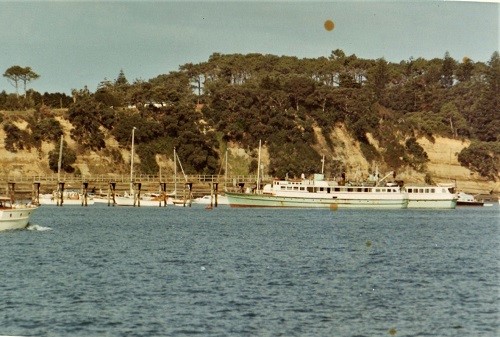 Ngaroma and Motunui tied up at Motuihe wharf.
Devonport Steam Ship Company went to Motuihe after the bridge opened in the 1960s. They were looking for work for the large double ended ferries. Leo Dromgoole bought the Devonport Steam Boat Company and Waiheke Shipping Co.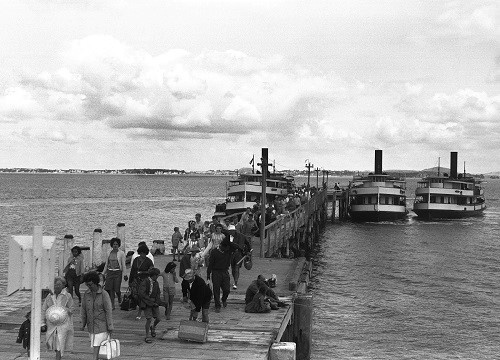 Click on picture to enlarge.
Ronnie remembers a number of charter companies that brought people out to Motuihe.
Nicks Cruises, Spirit of New Zealand Trust, Gulf Adventure Company, Glen Rosa, skippered by Wyn Ashmore, Auckland Boat Charters operated by Bob and Margaret Ewing, Anglican Adventure Trust, Sara Jane, owned and skippered by Russel McLure, a sailing vessel. Captain Cook cruises were offering cruises around the harbour in 1985 and 1986. 
Dreamweaver
This is a charter boat operating out of Z pier Westhaven. They have been very supportive of the Motuihe project, providing a free ferry for the wetapunga release.
During the wharf closure, Dreamweaver operated trips using a tender to land people either on the beach or at the block depending on the tide. This continued throughout 2020 and 2021 until the wharf reopened and they could tie up. They operate mid week volunteer trips on demand organized by Simon Sheen.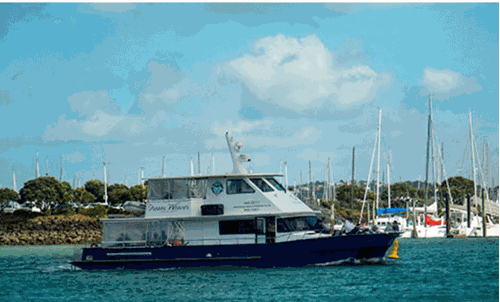 Dreamweaver at her berth in Westhaven.
Water Taxis
Sea shuttles run by Steve Latham offer a reliable and convenient service to Motuihe from Okahu Bay and Bayswater.  Steve Latham provided a service for small groups of leaders during the wharf closures. He either landed on Ocean Beach or at the block depending on the weather. These regular trips ran through 2020 2021 until Red Boats came back when the wharf reopened in June 2021. The company is used regularly for small monitoring groups.
Hauraki Express is a water taxi company that can take people as far as Great Barrier. They come from the Kawau Bay area.
Auckland water taxis used to run a service out of the viaduct but no longer do so.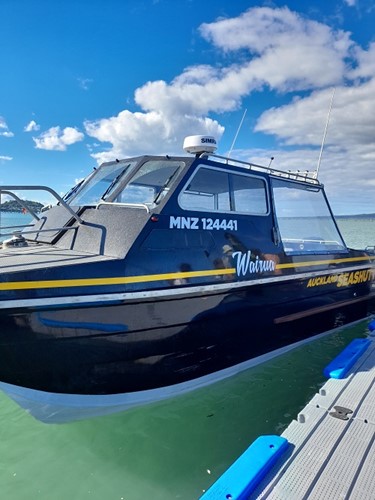 Latest addition to Sea Shuttles' fleet. (2021)
Barges and Freight Companies

Moehau was a barge used to bring metal for roading etc and was towed by a tug called Wainui.
Subrisky working out of Halfmoon Bay carried stock and other equipment for the farm. They were also used for events, bringing large groups of people and their gear especially for the Furuno Fishing Competition. Subrisky is now called Sealink.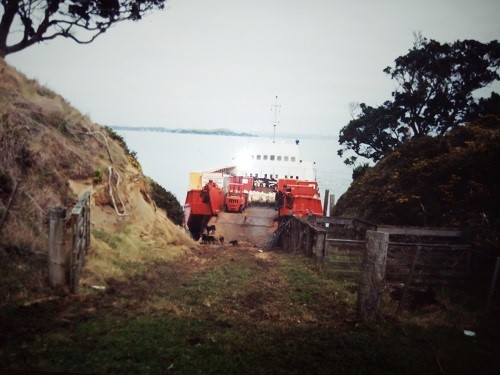 A Subrisky barge off loading sheep at the ramp.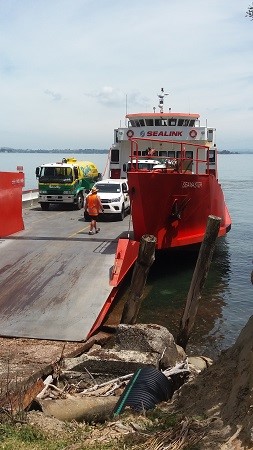 Sealink brings vehicles and heavy equpment to the island.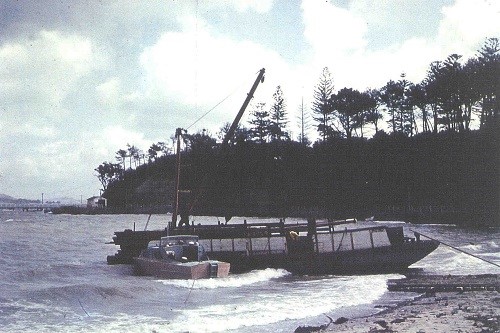 A barge in Wharf Bay (La Roche collection)
Port Kennedy barge skippered by Jeff Brebner was a regular stock barge used by the Motuihe farm.
Rope Shipping Co ran freight operations around the Gulf Islands including Motuihe.
The White Lady brought out Sea Cadets when they used the former surgeon's cottage on weekends. She also towed the cutters out.
Allister Reynolds operated a smaller barge which was faster and suitable for smaller loads, useful for Motuihe and Rakino.
Department of Conservation Boats
DoC manages the Gulf Islands so they have to deliver personnel and freight.
Hauturu is their bigger vessel and is equipped with a deck crane for lifting heavy freight. She comes to Motuihe once every 3 weeks on Wednesday. Ronnie remembers it being skippered by Lionel Brock. The smaller DoC boat, Taikehu, does a weekly run to Motuihe, a trip on Monday and another on Friday. The boats are kept at Bayswater marina.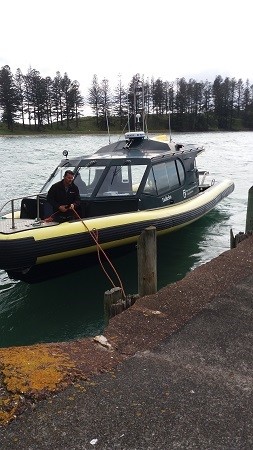 Taikehu is the smaller of the DoC boats and regularly berths at Motuihe.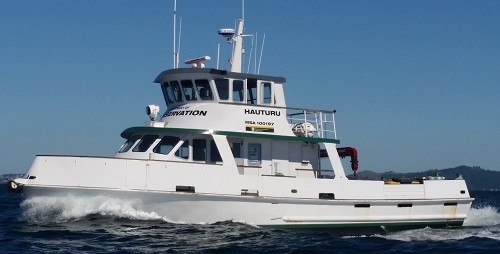 Hauturu usually berths at Motuihe every three weeks.
Transport Challenges
Wharf closures
The wharf was closed for a short time in April 2016 while some patch up repairs were carried out.
Then the Department of Conservation suddenly closed the wharf in August 2019. In fact there was a Fullers ferry about to tie up when the skipper noticed the "keep off" notice. It was the concrete block at the end of the wharf that caused the problem, essential for Fuller's Ferries. The Red Boats could still use the wharf as they could berth at the wooden steps. The wharf reopened in March 2021 after some repairs and then the whole country was locked down in August 2021 because of Covid 19. First public ferry back was Red Boats on 13 June 2021, the first ferry to Motuihe since Fullers stopped in August 2019.
Covid 19 Lock downs
The project was disrupted with a series of national and Auckland lockdowns.
March and April 2020
August 2020 level 3 lock down
Feb 2021 level 3 lockdown
Aug, Sept, Oct 2021 level 4 lockdown.

Archaeological Survey
For approx. one year from May 2020 we were not permitted to plant as the DoC carried out a survey to check we had not planted on archaeological sites. The survey was a pass for our planting project and we were back planting again.
Slips closing Wharf Road
A slip blocked wharf Road in April 2017. Volunteers could walk around the slip but we could not get the tractor to the block. In March 2018 a digger was brought in and used to clear the road. In June 2018 another slip closed Wharf Road. In August 2018 the last of the mud was removed.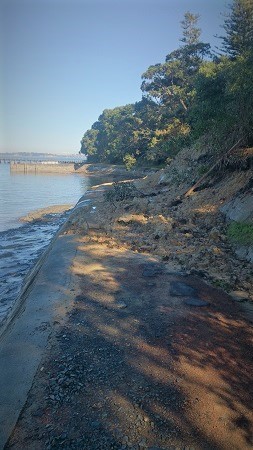 Beach Landings for Volunteers
In October 2019 because of the wharf being closed we used water taxis with ad hoc trips for leaders. In December 2019 Dreamweaver started using a tender to land passengers on the beach or at the block if the tide was right. Throughout 2020 when there wasn't a lock down or archaeological survey, we ran water taxi trips for team leaders to keep the project ticking over. The taxis landed on the beach or the block depending on the tide. These trips continued through to May 2021.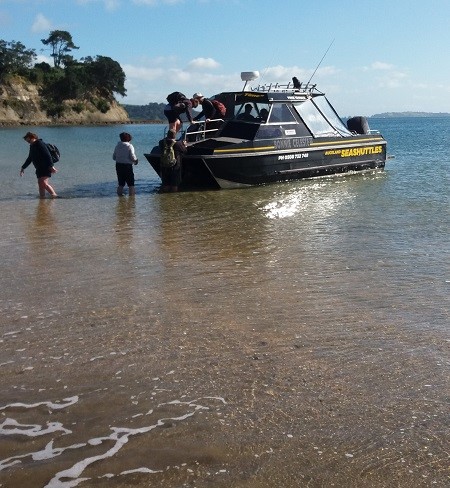 Climbing through the wind screen and over the anchor was a challenge for volunteers.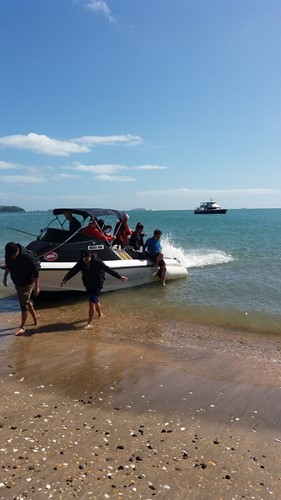 Volunteers land from Dreamweaver's tender.
Land Transport
Tractor
In 2006, with funds from Outboard Boating Club and Sky Tower, the Trust purchased a new John Deere 55 hp tractor. It has been the work horse for the project ever since, removing fences, digging tracks, transporting gear in the trailer and bucket and people in the cage. The cage was replaced in June 2020.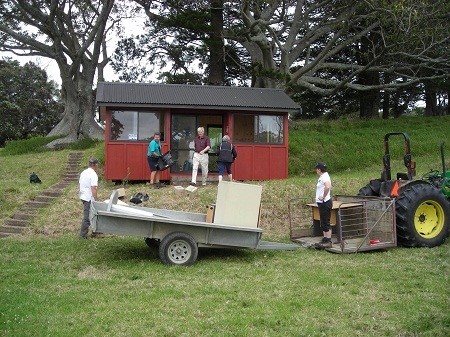 The tractor with trailer and cage attached being used to install the kiosk.