Quarantine stations
Using quarantine as a method of reducing the spread of disease in the population is a very old idea. The Bible (Leviticus chapter 13) goes into great detail about keeping leprosy victims separate from everyone else. When we do not have a cure or a vaccine, the only way to prevent the spread of a disease is to isolate those with it as we did in 2020/2021 with Cavid 19.
Islands have often been used as quarantine stations as, being surrounded by water, it is easy to keep the patients separate from the rest of the population.
On December 24th 1872 Motuihe was purchased from Robert Graham for 2,500 pounds for a quarantine station because a ship with cases of small pox on board arrived in the harbour and the entire island was set aside as a human quarantine station by the Board of Health of the Port of Auckland. Work started soon after on establishing the necessary buildings. These included two large barrack buildings made from timber salvaged from the Albert Barracks during its demolition, hospital wards, a brick fumigation building with a tall chimney, stables and a cemetery, but the cemetery was rarely used.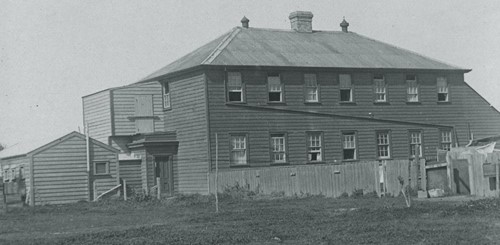 One of the two buildings built for the quarantine station.
Ships that were quarantined at Motuihe
1874  16 April The "Dorrette" was the first vessel to be quarantined at Motuihe (NZ Herald 16 April 1874: 2/2)
1874  6 Nov the "Hydaspes". Mary Long died of scarlet fever on the same day and is buried on Motuihe (NZ Herald 7/11/1874 2/2)
1875 26 Aug. "Dover Castle" quarantined (NZ Herald 26/8/1875 2:1.5)
1880 5 Feb "British Empire" quarantined. Steve Nelson, a long time volunteer on Motuihe, his Great Grandfather was a crew member on this ship. Only the passengers were quarantined. After a few days the ship moved to Auckland with crew only and unloaded its cargo. Apparently only passengers could get sick, not crew! (NZ Herald 9/03/1880 5) 
1880 29 June "City of Auckland" quarantined (NZ Herald 29/06/1880 5).
Animal  Quarantine:
The South eastern end of the island was used for animal quarantine purposes by the Department of Agriculture from 1892, and continued until 1941.  The quarantine periods for animals were 14 days for horses and 6 months for dogs, sheep, pigs, cows, bulls, and racehorses.
1918: Spanish Flu:
Motuihe was closed as an internment camp on 1 December 1918 after the 80 interred aliens had been transferred to Narrow Neck Camp at Devonport. In 1918 an influenza epidemic swept the country. The tragic epidemic of the Spanish Flu ravaged the world in 1918 including the Dominion of New Zealand. 200 million people died worldwide and 6,700 in New Zealand
RMS Niagara
In October 1918 the RMS Niagara (Royal Mail Ship) arrived in Auckland and should have been quarantined as it had a number of suspected Spanish flu patients on board. However, the NZ Prime Minister William Massey and the Minister of Finance Joseph Ward were on board and it is suspected that their presence influenced the health authorities to allow the ship to berth. It is believed that this action introduced Spanish flu to NZ. On a later trip back from Sydney on 25 January 1919 a patient on board with influenza was transferred to Motuihe.
RMS Makura (Royal Mail Ship)
The Makura, en route to NZ from Vancouver, sent a wireless message reporting it had cases of influenza and measles on board. The internees on Motuihe were hastily removed on 1 December 1918 to Narrow Neck. The Makura arrived on 2 December and ordered into quarantine off Motuihe. The influenza cases were transferred to the island where 6 people died. 2,600 bags of mail were fumigated and transferred to Auckland from the ship. The quarantine station was under the control of the NZ Defense Forces. Major W H Pettit NZMC was in charge.
Of the 38 patients transferred from Makura to Motuihe 1 was in a dangerous condition, 8 serious and 29 mild cases.
The well passengers remained on the ship for 7 days quarantine passing daily through a sulphate of zinc inhalation chamber on board. Captain of Makura = Crawford.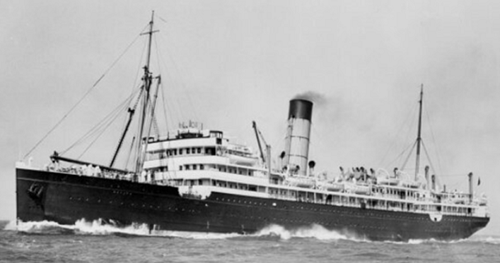 RMS Makura (Royal Mail Ship) carried 500 passengers. Operated by Union Steam Ship Company
Ethel Browning is buried here in the cemetery.  Ethel came over to Motuihe to be with her husband who was captain of the Makura.  While here she helped to nurse those who were sick with the flu, but caught it herself, and died.  She is buried here together with the others who succumbed.  Members of her family visit the island from time to time.
The graves from this period are the following:
Private F. D. Bradbury died 12th November 1918 of influenza and pneumonia aged 30 years, NZEF Home Service Section (guard). His headstone was replaced with a Commonwealth burial of the 1914-18 war;
Kenneth McLeod died 6th November 1918 of pneumonia aged 25 years, seaman from RMS Makura;
Thomas Rowan died 9th November 1918 aged 49 seaman RMS Makura;
J. Johnston died 10th November 1918 aged 33 years, Greaser RMS Makura;
Plot without a headstone
Indecipherable headstone Patrick Finnigan or Finnucan. May be the grave of a smallpox victim from 1873
Ethel Browning died 19th December 1918 aged 28 years. Died while voluntarily nursing influenza patients from RMS Makura. Wife of Lieutenant EJ Browning, Asst. Adj-General, Auckland Military District. 

www.wargraves.co.nz/Auckland/Motuihe
T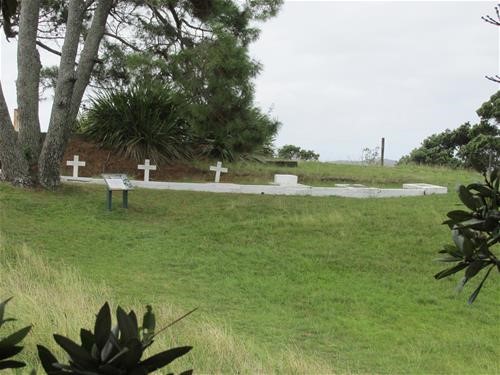 The graves on Motuihe following the 1918 flu epidemic.
In 1921 comprehensive quarantine regulations were passed and although quarantine stations continued to be maintained, they were seldom used.
1908 Somes Island was now designated as New Zealand's primary quarantine for animals and cloven footed animals imported into the country were from that time quarantined at Somes.
Most quarantine stations were abolished about 1933 but Motuihe station was not officially abandoned until 1941 when the Navy took control of it.