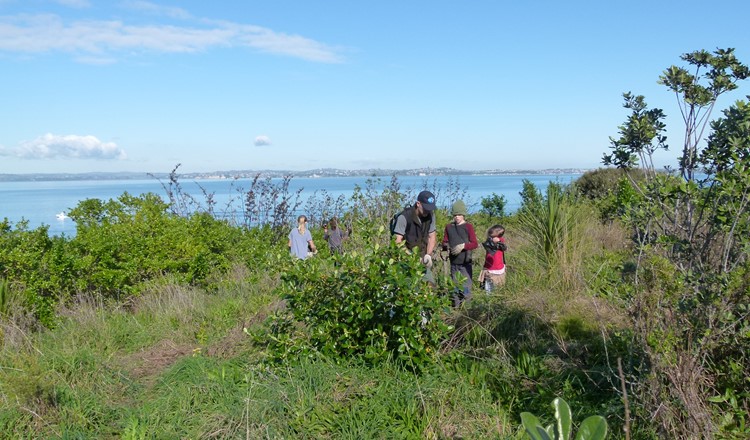 2020/21 Sunday, Weekday Trips and Upcoming Events
Motuihe Island/Te Motu-a-Ihenga
VOLUNTEERING TRIPS WILL RESUME WHEN AUCKLAND COVID19 LEVEL DROPS TO 2.
Now that the wharf has reopened, The Red Boats are offering a ferry service from Z pier Westhaven to Motuihe fortnightly on Fridays and Sundays leaving Westhaven at 9 am and Motuihe at 4 pm. 
IF YOU WISH TO VISIT MOTUIHE TO EXPLORE THE BUSH AND BEACHES AND MAYBE CAMP:
Contact The Red Boats directly on:
theredboats.co.nz/cruises/Motuihe-island-ferry/
IF YOU WISH TO VOLUNTEER AND CONTRIBUTE TO THE RESTORATION PROJECT:
Mid week volunteer trips
Mid week volunteer trips are usually on a Friday but the dates can be very flexible. The charter boat Dreamweaver is used and is chartered by business groups who wish to give their staff a great day out while contributing to the restoration of this beautiful island. Other smaller groups and individuals can be included if there is space. 
To register email Simon on volunteermotuihe@gmail.com
Sunday Public Planting Volunteer Day Trips
Sunday August 8, August 22, September 5, September 19, October 3, October 17, October 31. 
We will continue volunteer trips after this date but they will not be for planting. They will be weeding and nursery work trips. 
To register email Fiona info@motuihe.org.nz
COST OF TICKETS: Adult $38, Senior $30, Child (up to 16) $18, gold card $30, family (2 adults + 2 children) $90, VOLUNTEERS DISCOUNT (you must register first) $33. 
Training Dates
(Email info@motuihe.org.nz to register)