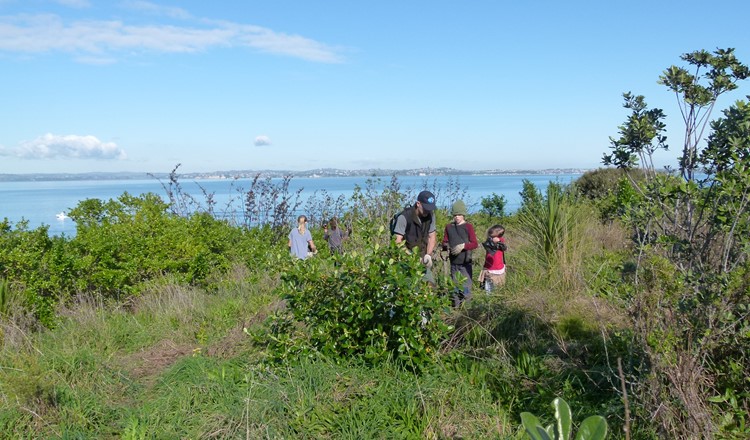 2021/22 Sunday, Weekday Trips and Upcoming Events
Motuihe Island / Te Motu-a-Ihenga
The Red Boats are offering a ferry service from Z pier Westhaven to Motuihe.   
If you would like to visit Motuihe to explore the bush, beaches and maybe camp, please see Transport link

If you would like to volunteer and contribute to the restoration project:
 TO VOLUNTEER ON MOTUIHE YOU MUST BE FULLY VACCINATED AND YOU NEED A MASK FOR THE FERRY AND YOUR OWN GLOVES.
Mid week volunteer Trips
Mid week volunteer trips are usually on a Friday but the dates can be very flexible. The charter boat Dreamweaver is used and is chartered by business groups who wish to give their staff a great day out while contributing to the restoration of this beautiful island. Other smaller groups and individuals can be included if there is space. 
To register email Simon on volunteermotuihe@gmail.com
The next weekday trip is:  Friday 6 May
Motuihe Planting Programme enters a new phase
Since 2000 the Motuihe Trust has been restoring the island with nearly half a million trees planted by thousands of volunteers from Auckland.
We are entering a new phase of the restoration project. We no longer require large groups of people to do mass plantings. We now need fewer people to do specialist planting of canopy trees.
Therefore we are looking for groups of up to 30 adults or teenagers who are willing to be out in the field planting in a very specialized way.
If you feel you can contribute to this phase of the project contact Fiona at info@motuihe.org.nz. Please do not be offended if we ask you to transfer to another date because we already have the volunteers we need on the date you want.
Planting season dates: May 15, May 29, June 12, June 26, July 10 FULL, July 24, Aug 7, Aug 21.
Mid Week Trips continue as previously because their main focus is weeding, and in Simon's words, the more volunteers the better. Therefore the only restraint is the capacity of Dreamweaver charter vessel which is 60. Children are welcome as long as they are closely supervised. Contact Simon on volunteermotuihe@gmail.com. His next date is Friday 6 May.
Fiona Alexander
Volunteers co-ordinator for Sunday trips
Sunday Public Volunteer Day Trips

Volunteer trips will be weeding, track maintenance and nursery work trips until the planting season opens hopefully in May depending on soil moisture. 
To register email Fiona info@motuihe.org.nz

Dates:  May 15, 29, June 12, 26, July 10, 24, Aug 7, 21.
COST OF TICKETS (for The Red Boats): Adult $38, Senior $30, Child (up to 16) $18, gold card $30, family (2 adults + 2 children) $90, VOLUNTEERS DISCOUNT (you must register first) $33. 
Training Dates
(Email info@motuihe.org.nz to register)