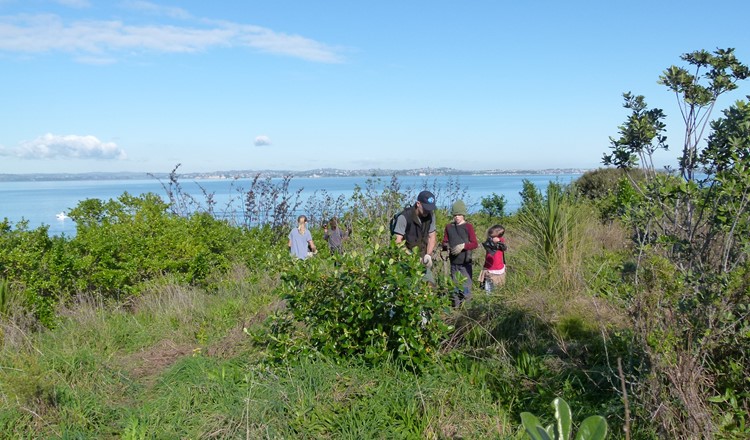 2022 Sunday, Weekday Trips and Upcoming Events
Motuihe Island / Te Motu-a-Ihenga
The Red Boats are offering a ferry service from Z pier Westhaven to Motuihe.   
 If you would like to visit Motuihe to explore the bush, beaches and maybe camp, please see Transport link
 If you would like to volunteer and contribute to the restoration project:
Motuihe Restoration Project enters a new Phase
We have opportunities for volunteers:
       

To work in teams which in-fill already planted areas with canopy trees grown in our nursery.

       

To work in the nursery, propagating the canopy species and a range of rare and endangered plants

       

To spot and destroy weeds

       

To help maintain our tracks

       

To support and take part in our biodiversity monitoring programmes

       

To man our kiosk over the summer
 For any of these activities, full training will be given. Children(under 16) are welcome but must be supervised by a parent/adult.
Mid week volunteer Trips
 Mid week volunteer trips are usually on a Friday but the dates can be very flexible. These trips have a strong focus on weeding and may also offer planting and nursery work. The charter boat Dreamweaver is used and is chartered by business groups who wish to give their staff a great day out while contributing to the restoration of this beautiful island. Other smaller groups and individuals can be included if there is space. If Dreamweaver is not available, A Red Boat is chartered. 
 To register email Simon on volunteermotuihe@gmail.com
 The next weekday trip is:  November 25th
December 2nd, 9th.
Sunday Volunteer Trips
Thanks to the Red Boats ferry, there are usually two opportunities per month for our Sunday trips. There will be a good range of nursery work, in-fill planting (in season), weeding, track maintenance or monitoring grid maintenance offered each Sunday. 
 To register email Fiona info@motuihe.org.nz
 Dates:   December 11th
SUMMER SEASON SUNDAY VOLUNTEERING DATES
January 8th and 22nd, February 12th and 26th, March 12th and 26th. 
Weekend Monitoring Trips
These trips for our Kiwi Call survey team, Reptile Monitoring survey team, Camera grid team and the Invertebrate monitoring team require volunteers to register and complete training. Some work is completed with a day-trip using the Red Boat ferry and the overnight trips use the Auckland Sea Shuttle, departing from Okahu Bay.
For info, trip schedule and registration: email Julie motu.julie@gmail.com
Kiosk (Summer weekends)
For info, registration and training: email Fiona info@motuihe.org.nz
 Transport Costs: Return trip for Red Boat Ferry (using volunteer code and incl. credit card surcharge)
Adult = $36.42, Senior = $28.10, 2 adults + 2 children = $100.92, 1 child = $15.61
Return trip for Auckland Sea Shuttle (dep Okahu) = for 10pax $580. With Trust funding subsidy Vols pay $30 each.