Operations Leadership
Motuihe Island / Te Motu-a-Ihenga
Regular volunteers who wish to lead groups of volunteers in island activities, including planting, nursery work, weeding and guiding undertake appropriate training.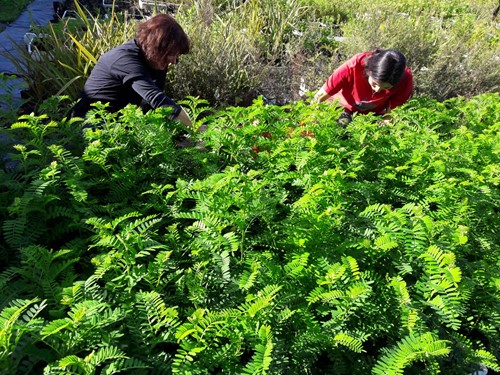 Motuihe Trust offers volunteer group leaders certified training programmes where applicable and on the job training.  Specialised training is sometimes offered to the Trust through DOC in areas such as bird and plant identification, species monitoring.
Roles and responsibilities (and operating processes) are outlined in the Trust Training and Operations Manual.  For more information contact should be made with a Motuihe Trustee or through info@motuihe.org.nz.
Below is a list of the different roles required to ensure Motuihe Trust operates smoothly.
         

Volunteer Co-ordinator

         

Mid-Week Co-ordinator

         

School Liaison Co-ordinator

         

Secondary School NCEA Project Co-ordinator

         

Monitoring Programmes Co-ordinator

         

Day Co-ordinator

         

Woolshed Housekeeper

         

Group Leader - General

         

Group Leader - Planting

         

Group Leader - Nursery

         

Group Leader - Weeding

         

Track Maintenance Co-ordinator

         

Social Media Co-ordinator

         

Kiosk Operating Procedures

         

Kiosk Management

         

Track Planning and Construction

         

Tour Guiding

         

Communications Co-ordinator

         

Kiosk Volunteers