Health camp
1929-1941 Sunshine Children's Health Camp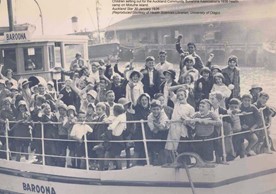 Health Camp children onboard the Baroona (Click picture for larger image)
About 1929 the Community Sunshine Association was permitted to use the Quarantine Station for the establishment of children's health camps; this organisation, with others, cared for a large number of children who were hurriedly evacuated from Napier after the severe earthquake in 1931 and sent to Motuihe.
From 1919 health camps were organised by community groups for children at risk of malnutrition and diseases such as tuberculosis. The camps multiplied during the economic depression of the 1930s. A Federation of Health Camps was founded in 1936 and the following year a campaign to establish permanent health camps around the country began. The camps aimed to improve each child's health by teaching good habits and providing sensible routines and a balanced diet.
New Zealand's first health camps were set up by Elizabeth Gunn in 1919 to help children who were malnourished or suffering tuberculosis. At these temporary camps, children could expect lots of sun, rest, fresh air, exercise, and nutritious meals.