World War I Internment Camp
Internees 
During World War I, several hundred German and Austrian nationals in New Zealand were interned as "enemy aliens" on Motuihe Island and on Matiu (Somes) Island in Wellington Harbour.  The internment camp housed the "better class" internees, including the German and Austrian Consuls and German businessmen.  When New Zealand occupied Samoa in 1914 (then a German colony), the internees included the Governor of German Samoa, Erich Schultz, officials from the German Samoan Justice, Customs, and Post and Telegraph Departments, and Telefunken engineers who were then completing the Apia radio station.  
Fourteen marine cadets from the Elsass were also interned on Motuihe, having been captured in Apia, Western Samoa, in 1914 after they had arrived there from Pago Pago (American Samoa, the USA at that time not involved in the War), mistakenly believing they could join Graf Spee's German squadron there.
Life on Motuihe for the internees was not hard. They were given reasonable freedom to roam the island during the day to fish, collect fruit, or swim. Some were even allowed to accompany the camp commandant on trips to Auckland to buy supplies which not available at the canteen. It was a situation of mutual respect and trust. The internees were regarded as being of such a high calibre that they could be trusted not to abuse the freedom given.
Buildings 
Barracks
Many of the German and Austrian nationals interned in 1914-1918 were accommodated in the barracks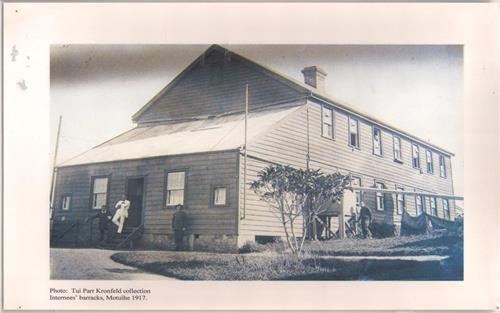 Governor's Cottage
After numerous complaints by the German Governor that his accommodation was not worthy of his "honoured guest" status, the Swiss Consul reported in 1917 that Schultz had been moved to the "practically newly built bungalow of some six or eight rooms".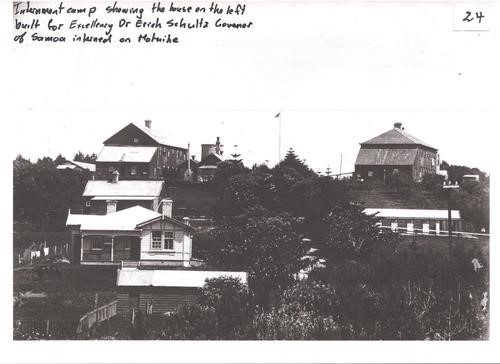 This photograph, taken in 1917, shows the Governor's cottage in the foreground. Behind it are the Camp Commandant's cottage and the barracks building at the top of the road.