Count Felix Graf Von Luckner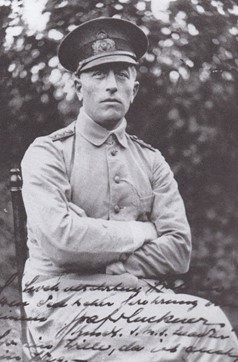 Portrait of von Luckner taken during WWI when he was in his mid thirties.
Radio NZ Black Sheep Podcast link - Count Felix Von Luckner
Early life and Atlantic
Felix von Luckner was born in Hamburg June 1881. The family moved to Dresden where he spent his childhood. The von Luckners were an aristocratic military family and Felix was expected to join his father's cavalry regiment. However he wanted to go to sea and at the age of 13 he ran away from home and joined a Russian sailing ship as a cabin boy. He spent time on several ships and also in Australia and North America doing a variety of jobs including circus, sawmill, wrestling. He was 
very strong.
Before the outbreak of WWI he returned to Germany, joined the navy and became a naval Lieutenant. He married and had one daughter. At the outbreak of WWI VL was 33 and he served with distinction in various naval battles.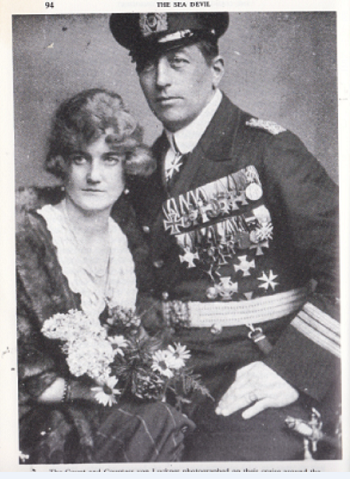 Count von Luckner with his second wife Countess Ingeborg (click on picture to enlarge)
The British had blockaded German ports on the Baltic so no German naval ships could leave. The German navy had a sailing ship called Seeadler (Sea Eagle) which was a captured American windjammer converted – guns added, diesel auxiliary, accommodation for hundreds of prisoners. She was the last square rigged sailing ship to be commissioned as a warship and had a crew of 64. Felix was given command as he had a considerable amount of experience with sailing ships. He broke through the blockade disguised as a Norwegian timber carrying ship. Two British naval officers inspected the ship and did not see the canon under the pig pen. His mission was to sink merchant vessels supplying Britain and her Allies. In the 6 months between 9 January and 8 July in 1917 Seeadler sank 11 ships in the Atlantic and 3 in the Pacific. The last ship captured in the Atlantic was sent to Rio do Janeiro with over 200 prisoners on board. All were full of praise for the treatment they received. VL was careful to avoid loss of life, always removing the crew before sinking a ship however one life was lost, a 16 year old apprentice English sailor hit by shrapnel.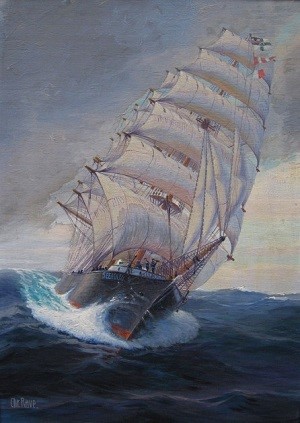 von Luckner's WWI warship Seeadler (Click to enlarge)
Ship Wreck
He decided to enter the Pacific to restock with fresh water and America had entered the war so hoped to sink American shipping. The British were patrolling Cape Horn but VL managed to evade them. He sank three American ships and took 28 men and one woman captive (wife of a captain). Beri beri and scurvy had become a problem so he headed to an uninhabited French island in the Society Group 450 km from Tahiti called Maupelia which had fish, water, coconuts, wild pig, tortoises. Four Kanaks, including  one boy were on the island. They were employees of a copra company. Two days after arriving, Seeadler was on anchor outside the reef with only a skeleton crew on board. The wind swung and Seeadler went aground on the coral reef and could not be moved. She was pounded by surf and her propeller broken. They had anchored in the outlet from the lagoon hoping the current would keep them off the land and had only intended to stay a few days. After all attempts to save the ship failed, they concentrated on salvaging as much equipment as possible.

The tent camp inside the lagoon on Maupelia atoll. (click to enlarge)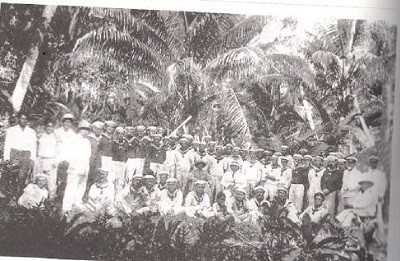 Seeadler crew on Maupelia after von Luckner had left. Note the 2 Kanaks (Melanesians) at the left end plus the boy in the middle front. (click to enlarge)
Pacific and capture
After 22 days on Maupelia, VL decided to set off in one of the ship's lifeboats to find a ship to capture and return to Germany. They raised the sides of the boat with canvas as there was only 28cm freeboard amidships. She was named Cecilie (German crown princess) and flew the German naval flag and they considered the life boat to be a German naval vessel. Four officers went with VL, his first officer Kircheiss, Krause and Ludemann plus two seamen Erdmann and Permien. The boat was 10m long and had a small diesel auxiliary engine plus a machine gun. Kircheiss was an expert navigator but he had great difficulty as there was nowhere to lay out a chart and to see the horizon over the swells he had to take a sighting by standing on a  rating's shoulders and hang on to the mast. However he found the tiny island of Atiu in the Cook Islands which they were heading for.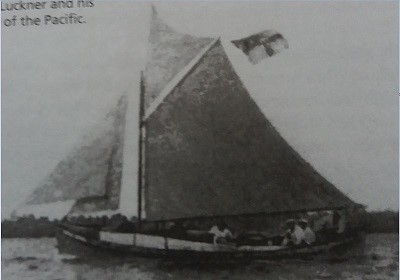 Cecilie, the 30 foot boat von Luckner and his crew of 5 sailed 3,000 km across the Pacific in. Note the canvas to increase the free board. (click to enlarge)
They did not intend to land at Atiu, they were there to find a ship to capture. However some locals came out and insisted on guiding them to an anchorage and taking them to the NZ Govt. Resident Agent Johnstone Dyer. (The Cooks were a dominion of NZ). VL persuaded him that they were Americans of Dutch origin and VL called himself van Hauten (the name of a brand of cocoa). They said they had made a bet at the Dutch Club in San Francisco that they could sail an open boat from Honolulu to Tahiti and back via the Cook Islands and they needed a certificate to prove they had landed in the Cooks. This was obligingly given. The next steamer was not due until October so they left for Rarotonga. They set up their machine gun to capture a ship. They had bad weather, everything got soaked through. At Atutaki they were again spotted by locals and thought to be shipwrecked sailors and taken to the resident agent, Thomas Duncan. Here they said they were Norwegian but other European residents were sure they were German. However after a half-hearted inspection of their boat and another "certificate" they were sent on their way. They headed for Palmerston but could not land due to stormy weather. They nearly capsized in heavy rain that continued for two days. They reached the northern Lau Group of Fiji. They went to an absent plantation owner's house and stayed one night. They then went to Wakayo island and stayed with an Englishman. A local was sure they were German and sailed off to Suva to raise the alarm. A two masted schooner arrived and VL arranged passage on board with the expectation of overtaking the crew once they were at sea. While loading their gear on board the schooner a ship arrived from Suva with an armed officer and 4 Indian soldiers. The Germans surrendered 21 Sept 1917 after four weeks at sea covering 3,000 km. The ship that captured them had cattle ventilation ports, the Germans thought they were gun ports. They were taken to Suva and imprisoned for six days before being sent by ship to NZ as Fiji did not have suitable accommodation for the German prisoners.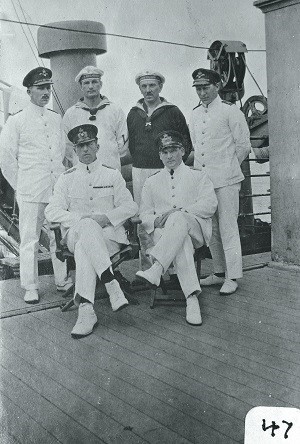 The captured crew on the ship sailing from Fiji to New Zealand. Back Ludemann, Permien, Erdmann, Krause, front von Luckner and Kircheiss. (click to enlarge)
What happened to the rest of the crew left on Maupelia?
Thirteen days after VL left a Tahitian based French schooner "Lutece" noticed the wreck of Seeadler and approached to investigate. The Germans went out in the second life boat and took over the schooner. They left the crew and the American captives on Maupelia and reached Easter Island on 3 Oct (4 weeks). The Lutece was rotten and had to be pumped constantly. The Germans beached her at Easter Island. They had to wait four months for a boat to take them to Chile where they spent the rest of the war. After the war they were repatriated to Germany after a long dispute over who should pay.
The American and French captives still left on Maupelia repaired a small boat and four men managed to reach Pago Pago in American Samoa. A NZ trading schooner was dispatched to rescue the remaining captives. (Not sure why American Samoa, Cook Islands were much closer.)
Imprisoned in New Zealand
The six German prisoners arrived in Auckland on 7 Oct. 1917 and were imprisoned at Narrow Neck barracks then the next day VL and Kircheiss were transferred to Motuihe Island.  The other four were sent by train to Wellington and imprisoned on Somes Island. Erdmann was later transferred to Motuihe in November to be VL's valet.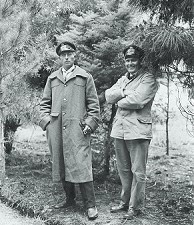 von Luckner and Kircheiss on Motuihe. (Click to enlarge)
Motuihe was an internment camp for German citizens. It was not a prisoner of war camp. The prisoners had the freedom of the island except they had to be in their quarters by 6 pm. The camp held the Samoan Governer Schultz and his officers after NZ captured Samoa. There was also the Austrian consulate and a group of German merchant Cadets from the North German Lloyd shipping line. Some were taken into Auckland on shopping trips in the commandant's launch The Pearl.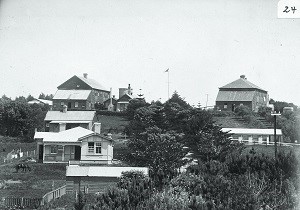 The internment camp on Motuihe. (Click to enlarge)
The Escape
There had already been plans to escape from Motuihe mainly by the German cadets. One included building a boat hidden in a cave but the cave collapsed. Once on the island, VL took over the escape plans. VL persuaded the Commandant, Lieutenant Colonel Charles Turner, to allow the prisoners to put on a Christmas concert. The preparations for the concert disguised the escape preparations. They made a German naval flag out of a bedsheet (in Auckland museum) a sextant von Zatorski made from hinges, a mirror, a penny, a safety razor and the brass tank of a primus stove. (museum) hand grenades – tin cans and gunpowder stolen from the Motuihe farmer. Kircheiss created charts from maps in the library, imitation firearms were made and they hoarded food. Two of the cadets had volunteered to run the  Commandant's launch The Pearl. They had stored extra petrol and supplies on board. When Turner returned to the island at 6 pm on 13 December 1917 he was distracted by a visit from his daughter. Instead of the launch being put back on its mooring, it remained at the wharf and the escapees boarded it. They were: von Luckner, Kircheiss, Erdmann, court official von Egidy, cadets, Schmidt, Mellert, von Zatorski, Paulsen, Klohn and one other unnamed and Freund the Telefunken employee who nearly missed the boat as he was cutting the telephone line. By 6.15 pm the 11 escapees were heading across the Hauraki Gulf towards Cape Colville. Because the telephone cable to Motuihe had been cut there was a delay in raising the alarm. At 8 am they anchored at Red Mercury Island and waited for a suitable vessel to come past so they could capture it. Their plan was to go to the Kermadecs and raid the Government stores depot then head out into the Pacific and eventually back to Maupelia and then to Germany. The scow Moa came by and they captured it and for a while towed The Pearl but she was lost during the night in high seas. The scow had a load of logs on deck which they jettisoned  to make the boat go faster. They reached Curtis Island on 21 December. The sextant used to navigate to the Kermadecs was made on the island by cadet Walter von Zatorski. (See pictures at bottom of this page.)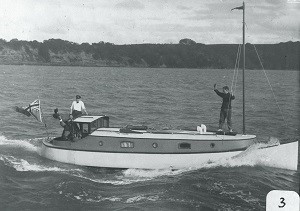 Governor Turner's launch Peal used in the escape from Motuihe. (Click to enlarge)
Once the news of the escape got out every recreational boat available in the Gulf was out looking for them and lots of people on the shore were also on the look out. However the government cable ship Iris had a gun installed and with a detachment of gunners on board was dispatched to the Kermadecs where it was guessed the Germans would be heading. The Iris arrived at the Kermadecs on the 19 December (two days before the Moa). She sighted the Moa not long after she arrived on 21 December. The Germans attempted to run for it but the Iris soon overhauled the Moa and the Germans surrendered and were brought on board.
Cable ship Iris with the scow Moa tied along side. (Click to enlarge)
The Germans spent three weeks in Mt Eden prison before VL and Kircheiss were sent to Ripapa Island in Lyttelton Harbour and the rest to Somes in Wellington Harbour. The conditions at Ripapa were not good and after endless complaints, VL and Kircheiss were transferred back to Motuihe on 9 May 1918 where they stayed until the end of the war in November 1918. Security had been increased with Major Samuel Schofield of Pukekohe Mounted Rifles in charge. No launch, no trips to Auckland and no run of the island. After the armistice on 11 November, the internees were transferred to Narrow Neck detention centre and finally repatriated in May 1919 to Germany. Three inquiries were held into the escape including a Court Martial of Lt-Colonel Turner who was dismissed from the NZ Defence Force. In summary VL initially spent two months on Motuihe then six months after his recapture. He was 37.
Later life
After WWI VL spent his time writing and going on lecture tours. He became a folk hero, not only in Germany, but also in western countries like NZ because of his endeavors to not kill anyone. He was also very good at self promotion and exaggeration of his exploits. He was very popular in the US where Henry Ford gave him a car and San Francisco awarded him the freedom of the city. He remarried, his second wife was Swedish, Countess Ingeborg the daughter of a wealthy Swedish industrialist.
There had been contact between Hitler and VL regarding a proposal to use the Count and his ship to "enlighten" foreign countries about the "reconstruction of the German Reich" and to defend Germany against "propaganda of lies" and "boycott movements". Hitler personally put money into the refurbishment of VL's yacht the Seeteufel (Sea Devil) and during 1937, 1938 up until June 1939 he toured the world with his Swedish wife. VL claimed his voyage was purely for pleasure. He visited Auckland in Feb 1938 and called himself "An ambassador for peace". On the Allies side he was accused of being a propagandist for the Nazis. On the German side he was accused of not doing enough to promote National Socialism. He threw a lot of propaganda material over the side of his boat and hardly mentioned Germany in his talks which were about his WWI exploits.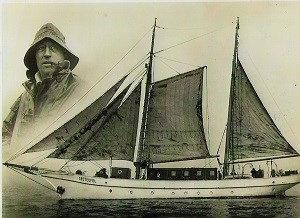 von Luckner's yacht Seeteufel (Sea Devil) which he used for his 1937/8 tour. (Click to enlarge)
A Court of Inquiry was held in Germany to consider "Had VL on his world cruise not kept to the National Socialist attitude expected of him and treated this trip as a private pleasure cruise." In the middle of the Inquiry, Germany invaded Poland and WWII began. The Inquiry was abandoned and the Count told that for the indefinite future under no circumstances was he to make public appearances, he must lead the completely retired life of a private person, and to make sure that in the press and in other public spheres his person is no longer remembered in any way.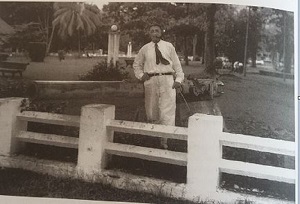 von Luckner in Tahiti during his 1937/8 tour with one of the guns from Seeadler retrieved from the wreck by the Australian Navy. (Click to enlarge)
He spent the second world war at his mother's house in the East German city of Halle. Towards the end of the war with the American Army approaching, he was asked by the Mayor of Halle to intercede which he did and the city was saved. He spent the rest of his life in Sweden where he died in 1966 aged 84 and his body was brought back to Hamburg for burial. There is a von Luckner society in Germany that keeps his memory alive and he is remembered on Motuihe island.
For more von Luckner pictures click here.
Auckland Museum pictures of flag and sextant. click here
Te Papa pictures of sextant. click here
Acknowledgement: Information and photos have been sourced from James Bade's book Sea Devil