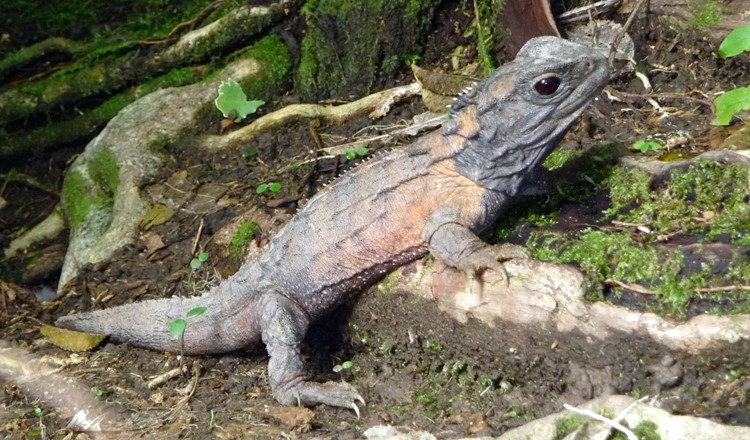 October 2021 Newsletter
The next volunteer days are: 
WE ARE WAITING FOR AUCKLAND TO MOVE COVID19 LEVELS, AND FOR PERMISSION FROM DoC, BEFORE ORGANIZING VOLUNTEER TRIPS.
 When we do have volunteer trips going again we need help in the nursery. 
As a result of the Covid-19 lockdown the nursery has a backlog of tasks to be completed before the summer recess. We need large groups to come over and work in the nursery once the Covid19 restrictions are lifted.  
Unplanted stock needs to be consolidated and the irrigation system adjusted and maintained.

Over a thousand young plants, regarded as rare and destined to broaden our biodiversity ---sand dune grasses, larger canopy species and forest climbers--- urgently need to be potted up ready for next season's planting. 

No expertise needed, training given.
PLEASE HELP IF YOU CAN ONCE WE GET TRIPS UP AND RUNNING AGAIN. 

Tuataras on Motuihe
Release day Sunday 25 March 2012
For the release day we dug 60 burrows, about 1 meter long into the soil. The release sites were in Von Luckners bush and on the Tieke track at the southern end.
When the holes were dug Mat or Graham suggested we needed to put "turning circles" at the ends of the burrows so the Tuataras could walk in and turn around. Apparently they don't like backing up. We dutifully did as requested, and it was one of the more difficult tasks I have done. It poured with rain the night before the release and a significant number of the burrows were totally inundated. We had to bail them all out on the morning of the release, and thankfully we didn't drown any of the new arrivals.
Motuihe's Tuatara's from Motu Muka (Lady Alice island part of the Hen and Chickens off Whangarei Heads) were handpicked by the gathering team from that islands population of about 4000 animals. So those that flew down to Motuihe were quite varied in their colours. Sixty tuatara were transferred from Lady Alice Island which included 40 female and 20 male animals,
The tuatara arrived by helicopter and were welcomed by iwi of Motuihe Island. Twenty-six tuatara were released in front of approximately 300 members of the public and dignitaries at Orchard Bush. Other tuatara were accompanied by iwi and released into Von Luckner's Bush.
Young Tuataras have been observed so we are sure they have bred but we do not know the current number.
Contributed by Steve Nelson


The tuataras arrive on Motuihe. Photo by Julie Thomson


Whero was a very popular tuatara as he was one of the most visible. Unknown photographer

Facts about Tuatara from DoC
Tuatara are New Zealand's largest reptile. Adult males measure up to about 0.5 metres in length, and weigh up to 1.5 kg when fully grown.
The male has a distinctive crest of spines running along the neck and down the back. He can erect these spines to attract females or when fighting with other males.
The colour of tuatara ranges from olive green to brown to orange-red. They can also change colour over their lifetime. They shed their skin once per year.
Their diet consists primarily of invertebrates such as: beetles, weta, worms, spiders, but they also eat lizards, seabird eggs and chicks. They even, on occasion, eat their own young.
Tuatara have one of the slowest growth rates of any reptile. They keep growing until they are about 35 years old. A tuatara's average life span is about 60 years but they probably live up to 100 years.
Tuatara are the only surviving members of the order Sphenodontia. This order was well represented by many species during the age of the dinosaurs, some 200 million years ago. All species except the tuatara declined and eventually became extinct about 60 million years ago. Because of this tuatara are of huge international interest to biologists. They are recognised internationally and within New Zealand as species in need of active conservation management.
 
Ethel Bertha Browning (nee Kemsley)



Ethel Browning is buried on Motuihe. She died on 19 December 1918 aged 30 years of Influenza while nursing patients from RMS Makura.
Ethel was the daughter of Amelia and George Kemsley of Waikanae. George was a widower 20 years older than Amelia. He was a retired Wellington fire chief and they moved to Waikanae in the late 1890s and took up farming. Ethel had two brothers, George and John. Another sister and brother had died as very young children. Ethel worked as the postmistress at Te Horo, which is just north of Waikanae, from 1908 to 1910. She married Sergeant Major Ernest James Browning in 1910 when he was in camp at Waikanae. They lived at several addresses in Wellington before moving to Auckland. Ernest was promoted to assistant adjutant general Auckland Military District. Ernest did not serve overseas during WWI but he had served in the South African war as a bugler . He came out of retirement and served in the army at home during WWII. He died in 1953. Ethel and Ernst did not have any children.
Most married women were not permitted to work and the code of conduct for postmistresses in the early 1900s was that once married, a postmistress must give up her position. Therefore when the Brownings moved to Auckland, it was unlikely that Ethel was in paid employment. During WWI efforts relied heavily on volunteers and some women became lay nurses. Ethel's family felt that as she was married to an army officer, she was expected to do her duty and volunteer. Ethel was a volunteer nurse at the Technical College which had been set up as a hospital for influenza patients. When the Makura was quarantined at Motuihe on 2 December 1918 and influenza patients transferred to the quarantine station on the island, Ethel volunteered to nurse them and unfortunately succumbed to the disease very quickly as she died on the 19th of December. Her mother Amelia never recovered from losing her, she always dressed in black and became very reclusive. The children in the family always look for a star in the sky which they call "Aunty Ethel".
photo and biography courtesy of Patsy Whenuaroa (Ethel was Patsy's Great Aunt)

The quarantine page on our webpage has been updated:
 https://www.motuihe.org.nz/about-the-island/heritage/1872-1918-quarantine-stations/

What is happening on Motutapu?
Motutapu have had the same problems as Motuihe with a very limited planting season due to the lock down. However, they have the additional problem of at least one stoat on the island which the experts have been unable to catch. Considerable resources have been used to find the stoat but to no avail.